Spring Back Into Your Resolution
Did your exercise program fizzle out before February? Talk with your physician and start again now
You can't use "baby it's cold outside" as an excuse anymore.
As milder temperatures and longer hours of sunlight grace coastal Georgia and the Low Country, now is a good time to reassess why your New Year's Resolution of getting in shape has already slipped by the wayside. Part of the problem could be a lack of planning. That's why Knar Mesrobian, DO, encourages her patients to develop and discuss new exercise goals with her.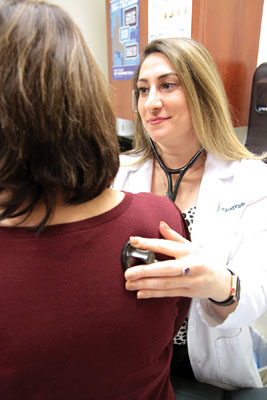 Dr. Mesrobian, who is herself an avid runner and half-marathoner, reminds her patients that there is some mental as well as physical preparation involved.
Plan ahead realistically to anticipate obstacles
Give yourself a goal such as a 5K or 1-mile race on a target date
Make sure you have well-fitting sneakers with good tread traction
"If you're not planning ahead, as soon as you come across an obstacle, you're going to give up," she says. "So look at your life realistically. If a bad weather day is going to keep you from running or walking, do you have access to a treadmill? If you need a running partner to keep you motivated or engaged, is that person going to be available to run as much as you need them to? If they can't go, could you go alone?"
Once you have your goal in mind, be sure to discuss with your doctor a realistic plan for getting there.
"Having that discussion is how we prevent injuries, which is of course another thing that makes people give up," Dr. Mesrobian says. She also stresses the importance of stretching.
"Neglecting this part is common with runners but it happens with weight trainers as well," she says. "Tight muscles can make you prone to injuries. You want to give yourself time to stretch, and time off in between sessions as well to allow your body to heal from the vigorous activity."
With excuses and obstacles out of the way, you'll soon experience the health benefits that inspired you to make the resolution in the first place. The American Heart Association recommends:
About 150 minutes a week, or roughly 20 minutes a day, of exercise
Moderate to vigorous aerobic exercise—power walking, jogging, cycling
Add muscle-strengthening activities, like weight training, when you're ready
"The most important thing about running—more so than weight loss—is cardiovascular health," Dr. Mesrobian says. "If you are able to get your heart rate up, even if that just means walking on an incline or power walking, that's what we're looking for."
---
Knar Mesrobian, DO, practices Family Medicine at St. Joseph's/Candler Primary Care in Pooler. She and her fellow physicians, nurses, and staff will be serving patients in a new state-of-the-art facility on St. Joseph's/Candler's Pooler campus, opening on March 25.