Popping The Clutch
Garland Bags, which began as a fun creative outlet, has gained a huge following for its daring style
It's a long road from making a purse out of cardboard and hot glue to being featured in Martha Stewart Weddings magazine. But Lindsay Thomas has been down that road and then some.
"There was a tutorial on Pinterest about making a clutch purse that way, and I was really interested to see how it might be constructed," Thomas recalls. "It turned out terrible, of course! Just as bad as you would expect from cardboard and hot glue. But it got my wheels turning."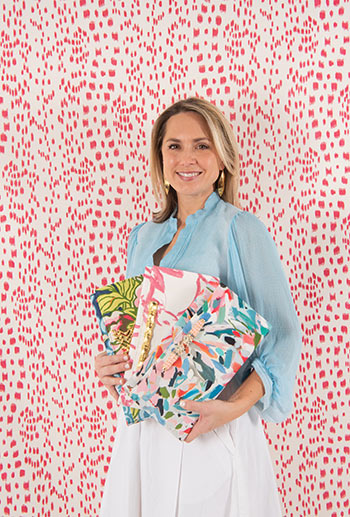 Those turning wheels led to the creation of Garland Bags, a handbag company that Thomas started out of her home. Now her creations are available in boutiques across the country and getting even more nods in magazines such as Southern Home, Savannah Magazine and New Jersey Bride.
"I've always had an entrepreneurial bent," Thomas says. "But I know there's a lot that I don't know. Trying to manage this growth has been an interesting journey."
Playing Favorites
Diving into new projects is nothing new for Thomas. Originally from Atlanta, Thomas has worked in several industries including interior design, ad sales, fundraising and real estate. For a time, she ran her own catering company. She and her husband were both working in the mortgage industry when they moved to Savannah more than a decade ago. The charm that brought them to the Hostess City still has an effect on her.
"This many years later, it is still pretty arresting to cross over the Thunderbolt Bridge or drive down Washington Avenue," she says. "I still appreciate it."
After having her second child, Thomas was looking for part-time work and for a way to express her creativity.
"I was making decorative, high-end pillows for interior designers as well as for Gulfstream," she says. "That is where I finally got involved in textiles and patterns and all this interior design stuff that I have always loved."
After her experiment with the cardboard clutch, Thomas started making bags out of the fabrics she had fallen in love with during her work in pillow design.
"I was really just messing around, playing with my favorite fabrics," Thomas says. "Then I got the idea to put some vintage jewelry on the front."
Thomas posted one of her prototypes on Instagram and was surprised by the positive reaction she got from her few followers. (By the way, @garlandbags on Instagram now has more than 12,000 followers.) After she posted a few more, a friend asked, "When can I buy one?"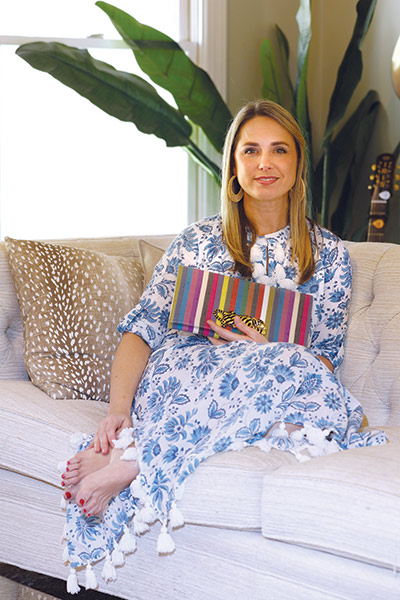 "And she was my first customer," Thomas says.

The Bold And Beautiful
Customers of Garland Bags seem to appreciate the unique personality that belongs to each clutch. In fact, some of the clutches have their own biography. Like the purses themselves, these profiles grew out of Thomas simply having some creative fun.
"There was this one clutch made of Hermés wool that was just really different and quirky," Thomas says. "It had this really specific personality to me. I decided to write a story about it and share it. And again I got this great, unexpected reaction from everybody. So with the next clutch I thought, 'Well, what is this one's story going to be?'"
The chance to be a little bold—to dare to be different—seems to be part of the what attracts people to Garland Bags.
"I think what is fun about our bags is that if you are a bold person, they match your personality and can be easily incorporated into your look," Thomas says. "At the same time, if you dress pretty subdued, with lots of solid colors, we give you an opportunity to punch it up without a commitment of buying a really loud dress or blouse. You can still be classic and timeless but have that 'pop' that you can carry or put down. It's a non-committal pop that you can use over and over again."
A Stitch In Time
The fast growth of what was supposed to be a part-time gig has been exciting and challenging for Thomas. Along with seamstresses who help on the production side, she has also added her friends Emmy Wilcox and Jana Newland to the business side of things.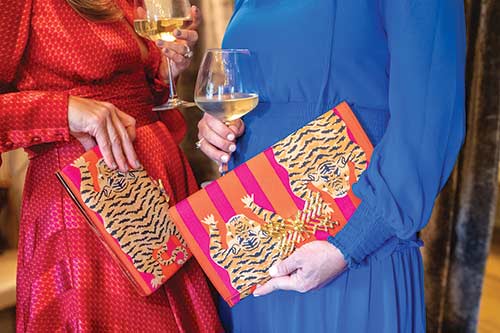 "It is wonderful not being alone in this," she says. "I can't believe my good fortune to have Emmy and Jana with me. I could not do this without them."
Thomas is not only transparent about how much she benefits from the support and input from others, but believes it is part of the formula for success.
"I'm constantly trying to get advice and find people who are strong where I am weak," she says. "My advice to anyone who is thinking of starting their own business is find someone who is further along than you and ask questions. Chances are that they love talking about how they figured things out."
The support of her team helps Thomas continue to honor her most important commitment—time with her children. She is also doing her best to make time for herself, which has become even more important for Thomas as she sees friends struggle with health issues.
"For a while, I was perpetually 27 years old," Thomas says with a laugh. "But now in my early 40s, I've realized you can't be in denial of the health concerns that come with this age. We have to stay on top of our check-ups and screenings."
This point was driven home when a friend of Thomas's was diagnosed with breast cancer.
"I needed to re-schedule a mammogram, but I had been putting it off," she recalls. "My friend's diagnosis made me realize how serious it is. If you need any kind of screening or check-up, don't put it off. Make time for your family, for fun and for your passions, but also for your health."