Voice for the Community
Radio personality Weslyn Bowers brings 'Blessings In A Book Bag' to her childhood school
"Woodville, stand up."

These are the words that Weslyn Bowers, also known as Lady Mahogany on 94.1 The Beat, signs off with every day. She wants listeners from her neighborhood to be proud of where they come from, just as she is.

"Woodville is a small community," Bowers says. "The people here see that not only did I make it out, but I chose to come back. I'm willingly happy to be here and serve my community."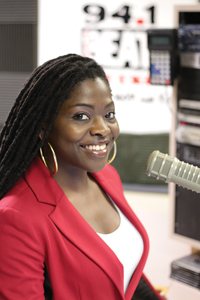 It was Bowers' talent for dance, modeling, and performing that introduced her to a world far from her childhood home, where she and her neighbors struggled with poverty. She discovered these talents as one of the first students at what was then a brand new school, the Savannah Arts Academy. Soon she was dancing in Africa with the Sankofa Dance Theater and backing up stars like Madonna and Janet Jackson on the southeastern leg of their tours.

"I was living the life," she recalls. Yet Bowers also realized that success was separating her from her loved ones and her home. When her brother was injured in a car accident, the next step in her journey was clear.

"My brother is my heart," she says. "He was the one who made me the disciplined person that I am. I decided that I needed to go back home to help and to stay home. That was my calling."

"Family is very important to me," Bowers adds. "My mother is strong. She taught me how to be fighter. My father taught me how to dress, walk, and talk—he created my style. He always told me to be the best I can possibly be."

Upon returning to Savannah, Bowers knew she wanted to work with kids. She quickly got a job teaching dance to children at the West Broad YMCA. One day, a mom of one of Bowers' students called to say she could not get her child to the Y for class. She asked if Bowers' might come to her work and pick the child up. The mom worked at 94.1 The Beat, and the pick-up arrangement was really just a ruse to get Bowers in for an audition.

"The mom introduced me to the program director and handed me a piece of paper," Bowers recalls. "She said 'Just humor me…take all that you've learned about performing and read this.' I took the paper and out of the blue, this voice came out. The program director said, 'She's our girl.'"

Bowers has been Lady Mahogany on 94.1 The Beat for nine years.

"I am number one in the 25-54 demographic and the longest-running female personality in this city that does a solo show," Bowers says. "I know that has everything to do with my community. Because they don't just hear me. They see me, and that makes a difference."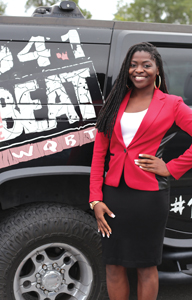 Students at Otis J. Brock Elementary (formerly Bartow Elementary, as it was known when she attended as a child) do indeed see Bowers every Friday, when she delivers food as part of her Blessings In A Book Bag program. Bowers created the non-profit program three years ago, seeing a need that she had the power to fulfill.

"Some of these kids get their best meals at school, but they may have little to nothing to eat on the weekend," Bowers says. "I asked the teachers to let me know which students were the most at risk, since they see it firsthand."

"Every Friday for three years now, I've helped feed more than 50 children and their families," Bowers says. "The kids come down, open up their book bags, and I put enough food in them to sustain them over the weekends. I'll also sometimes give clothes, shoes, toothpaste, school supplies, you name it."

Both food and monetary donations contribute to the ongoing success of Blessings In A Book Bag. At times, Bowers has had to use her own money for the program, and she is proud to do so.

"My motto is 'Those who can, should. Therefore, I do,'" she says. "My program is personal. It's my school, my kids, my community."

Learn more about Blessings In A Book Bag, Inc. at blessingsinabookbag.org.
Recipe For Success
The vision for Weslyn Bower's Blessings In A Book Bag program is a big one: better test scores, improved reading skills, positive behavior, improved health and increased school attendance. Yet the program has been getting these results, and for Farrah Solley, a clinical dietitian with St. Joseph's/Candler, it's not hard to see why.

"Adequate nutritional status is directly linked with improved school performance," Solley says. "Many studies have shown that students are better able to learn, have fewer absences, and are less likely to act out in class. It is essential for students to have three balanced meals daily, with snacks between meals. Missing meals can make a child feel tired, irritable, and not ready to learn."

Solley says that both the brain and the body need a consistent array of foods:

Fats – Healthy fats found in nuts, fish, and canola, olive, and peanut oil are essential to proper brain functioning.
Iron – Meats, beans, and fortified cereals are sources of iron. Iron deficiency can leave students feeling tired and affect their focus.
Carbohydrates – While carbs generally have a bad name, they are actually the energy source for the brain. Whole grains, fruits, milk, and brown rice are a few healthy carbohydrates that fuel a student's mind.
Water – Staying hydrated is important. Dehydration may lead to fatigue and poor concentration.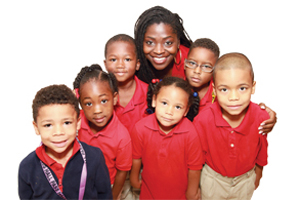 Educate yourself further about the best nutrition for young bodies and minds by taking our quiz.