Knowledge for Life: Lung Cancer
Smoking is the not the only risk factor, but it is the most significant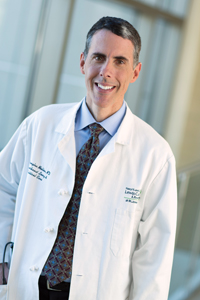 This year the American Cancer Society (ACS) estimates that about 224,000 people in the United States will be diagnosed with lung cancer. This number is made more troubling by the fact that lung cancer is the cause of more deaths, in both men and women, than any other cancer. This sobering statistic is one that the physicians and nurses at St. Joseph's/Candler's Nancy N. and J.C. Lewis Cancer & Research Pavilion (LCRP) face every day, but they also know that the biggest risk factor—smoking—is in many cases reversible, and that effective lung cancer screening can reduce mortality.

"Lung cancer tumors grow in a large space inside your chest, without running into boundaries or nerves that are perceived by the patient in the form of symptoms," explains pulmonologist M. Douglas Mullins, M.D. "Unfortunately, because of this, two-thirds of lung cancer patients are diagnosed at an incurable stage."

Are you at risk? Here are the basic facts you need to know about lung cancer:


Risk Factors

Smoking. "Lifetime smokers have up to a 30 percent chance of developing lung cancer," Mullins says. "Those who have smoked for over 30 years will maintain a certain level of risk even if they quit. Pipe and cigar smoking are thought to be related to lung cancer risk as well, depending on how much you smoke."

Radon. "This gas is a product of uranium breakdown and is not detectable by taste or smell," Mullins says. Levels of radon in the soil vary across the United States, and homes built in high level areas may be contaminated with a more concentrated radon that could increase the risk of lung cancer.

Asbestos. "People who have worked with asbestos, whether it be in fabrication or installation, have an increased risk," Mullins says. "If that person is also a smoker, it's a multiplicative risk." Asbestos fibers were used in manufacturing insulation and fire-resistant materials in the past, but regulations have reduced its use greatly.

Workplace carcinogens such as uranium, arsenic, coal products, and diesel exhaust. As with asbestos, industries have developed methods to help protect workers from dangerous exposure to these agents, but they still pose a risk.

Family history and genetics. "Relatives of those who have had lung cancer are more likely to develop lung cancer themselves," Mullins says.

According to the ACS, of the risk factors listed above, smoking is without question the most significant. Dr. Mullins agrees but notes that the approach to smoking as a risk factor must not be tainted by stigma.

"Smoking cessation is at the center of any preventative effort, and it's the only truly reversible risk factor," Mullins says. "But we must also get past the idea that somehow cancer is the just reward for someone who smokes. Smoking is an addiction and something that we need to address compassionately."


Screening

Results from a National Lung Screening Trial in 2010 led to new guidelines from the ACS for lung cancer screening.

"The clinical trial studied the use of a low-dose non-contrasted CT scan, also known as a low-dose spiral or helical CT," explains Dana Coleman, RN, Patient Navigator at the LCRP. "The results showed that lung cancer mortality was reduced by 20 percent among smokers who were screened with CT as compared to a standard chest x-ray."

"According to the ACS, the prime candidates for lung cancer screening using CT scan technology are patients who are 50 to 80 years old and in fairly good health, having at least a 20 pack-year smoking history, and are either still smoking or have quit smoking within the last 15 years," Coleman says. "A pack-year is a unit of measurement, calculated by multiplying the number of packs of cigarettes smoked per day by the number of years a person has smoked."

"Of course, even patients who fit the criteria should discuss the benefits and risks of screening with their physician," Coleman says.

Dr. Mullins notes that health insurance does not reliably pay for this screening, and he is grateful that St. Joseph's/Candler's Lung Cancer Screening Program offers this service at a nominal cost. A radiologist reads the scan and shares his information with the ordering physician.

"The objective is to find very small lesions," says radiologist Thomas H. Philbrick, MD. "If we do find a lesion, additional evaluation through further scanning or a biopsy may be needed to better characterize what we have found."

"From a patient standpoint, the CT scan is very quick and easy," Philbrick adds. "There is no contrast given and we try to limit the radiation dose. The most recent data I've seen shows that this screening has helped to diagnose some patients at an earlier stage, when the cancer is more treatable and perhaps even curable."

Treatment options differ depending on the specific type of lung cancer that is diagnosed in the patient, but Dr. Mullins is grateful to be able to offer some of the most advanced treatments in this region.

"We have a whole host of new technologies and frontline diagnostics available at the LCRP," Mullins says. "We have made tremendous progress in being able to treat people with early lung tumors in a minimally-invasive way."

"But ultimately, the most important factor in the fight against lung cancer is prevention," Mullins says, "and the best prevention is to stop smoking."