The Right Place for Support
Palliative care is a tremendous resource for certain patients, and is not to be confused with hospice
When patients are facing a serious, potentially life-threatening illness, such as cancer or congestive heart failure, they are fighting much more than the disease. They could also be dealing with painful side effects from treatment, financial stress over how to pay for their treatment plan, and of course the emotional toll for both them and their loved ones. To help patients like these, the Nancy N. and J.C. Lewis Cancer & Research Pavilion (LCRP) formed a partnership with the Steward Center for Palliative Care. They have helped numerous people in both the outpatient and inpatient settings, even those that were certain that they did not need palliative care.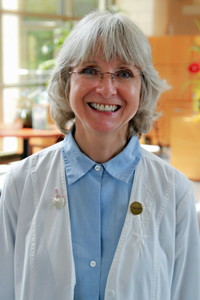 "Our first patient said, "I'm not in the right place,'" recalls LCRP Clinical Special Services Manager Jennifer Fournier. "I told him that we were here to help him with pain and symptom management, but also to help with any other problems he is having, whether it be physical, emotional, social, or spiritual. At the end of his first visit, he said, 'You're right. I am in the right place."

"Palliative care is not end-of-life care," explains Kelly Erola, MD, who is Board Certified in Family Medicine and Hospice & Palliative Medicine. "End-of-life care is hospice care, which requires a prognosis of less than six months to live. There is no prognosis required for palliative care.

Palliative care is truly an extra layer of support to help manage pain and symptoms in patients, but also to help them and their families cope with the illness."

An interdisciplinary team—comprised of a physician, nurse practitioner, social worker, and chaplain—delivers palliative care. Other providers such as dietitians, counselors, and rehab therapists may also be part of a patient's team if needed.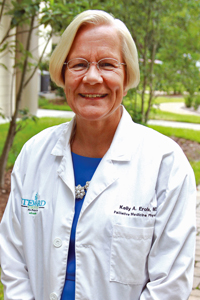 "We review the symptoms and prescribe medication for pain management," Erola says, "but we also ask questions such as, 'How is this impacting you? How are you eating and sleeping? What is your quality of life?'"


Dr. Erola notes that palliative care helps patients stay on their treatment regimen, relieving the burden of symptoms that can often interrupt or delay treatment.

Palliative care can be provided during treatment and continue after treatment ends to manage on-going side effects. Palliative care patients are seen as often as necessary to provide support. Established patients usually visit the outpatient palliative care team about once a month to maintain their symptom management. If the disease progresses to the point where a patient has a prognosis of less than six months, then he or she can be referred to hospice care.

Fournier recalls a female patient whose illness and its treatment confined her to a wheelchair and caused constant nausea and vomiting. The woman's top priority when she was first seen by the palliative care team was to walk her twins to the school bus stop.

"Not only is she now walking, but she is also doing housework, cooking, having as normal of a life as possible," Fournier says. "She still has treatments periodically, and she continues follow-up visits to the Outpatient Palliative Care Clinic where the interdisciplinary team assists her in maintaining optimal symptom management."

"That story reflects another question we ask our patients, which is 'What's important to you?'" Erola says. "Our goal is provide the best quality of life for each patient with a serious illness, and to support their individual needs."

Learn more about outpatient palliative care at the LCRP here.