Patients Should Call The Nurse Even When Visitors Can Lend A Hand
Marie Hinely, BSN, RN
Resource Coordinator, 5N
St. Joseph's Hospital
Smart Living: Nurses always let patients know to call them without hesitation for whatever assistance they may need. But when family or friends visit, patients may feel it's easier to ask them for help instead. Why is it important for those patients to call the nurse even when they have visitors willing to help?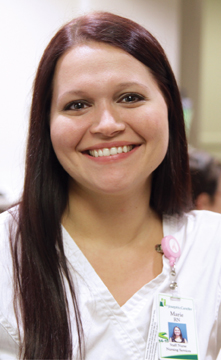 Marie Hinely: Ultimately, the patient's safety comes first, and if a patient needs to stand or walk, calling a nurse is the best way to prevent falls and injury. A nurse is always nearby to answer a patient's call in a timely manner, and nurses are trained to use the proper body mechanics in helping patients. If they don't call the nurse, patients may not only put themselves at risk for injury but also the family member or friend who is trying to help them.

SL: What reasons have patients given for asking family to help instead of calling a nurse?

MH: Patients have expressed concerned that they are bothering us when they call. We reassure them that it is not a bother at all—it is why we are here. We communicate to each patient during our walking rounds that we are here to assist with any needs, including getting out of bed or going to the bathroom. We instruct and encourage patients to use the call button to reach us. Also, we have Call, Don't Fall signs in the rooms as a reminder not just to patients but also to the family.

We assess and rate each patient's fall risk every shift, based on different factors such as their physical status or if they are connected to any equipment. For our patients with a high risk of falling, we have bed alarms to alert us when those patients are attempting to get up and whoever is closes to the room will go to assist them.

We also communicate to patients how important it is to call us if any piece of medical equipment such as an IV pump or sequential compression device is beeping. Alert a nurse or another member of the medical staff and we will respond right away.

SL: When is it okay for the family member or friend to help out in the patient's room?

MH: For simple tasks like adjusting the temperature in the room, finding the TV remote, or grabbing tissues for the patient, it is fine for family members or visitors to provide assistance. But we are always available and happy to do those things as well.