Comeback Champion
Savannah's Gene Sauers won the 2016 U.S. Senior Open after recovering from a life-threatening illness and several years away from the game
When Gene Sauers first got excited about being on the golf course, it was not with a club in his hand but a wheel.
"That little ol' green golf cart was what got me going," says Sauers, who became a major champion this year with a 2016 U.S. Senior Open win. "My dad and my older brother Bobby would wake me up and say, 'Gene, we're going to the golf course, you want to go with us?' And I'd say, 'Can I drive the golf cart?' They'd say yes and boy, I jumped right up."
Of course, Sauers' father and brother would also teach the young boy about the game at the Savannah Golf Club. As he learned, Sauers experienced one of those magic moments in life.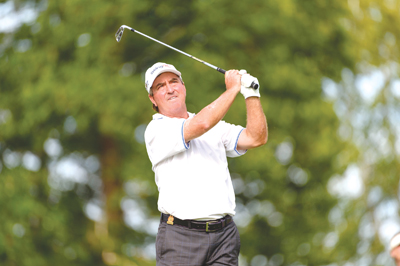 "One day I hit one so solid…you know, that feeling when you hit right in the center of the club face and it goes in the direction you want it to go," Sauers says. "That's when I got hooked."
Playing well at junior tournaments and seeing his name in the paper gave Sauers an idea of what a professional golfer's life would be like, and he decided he wanted that life. He gave his classmates at Benedictine Military School a laugh in the late '70s when he signed their yearbooks with "Gene Sauers (PGA Tour 1984)."
"That's what I wanted to do," he says. "It's pretty amazing that whatever your dream is, you can do it."
Sauers did indeed join the PGA Tour in 1984. Throughout his career, he had several top 10 finishes and won three times, always keeping his heart and his home in Savannah. In fact, Sauers played an integral role in the St. Joseph's/Candler Foundations Pro-Am tournament in the 1990's, helping to raise funds for advancements in technology and patient care.
Sauers' third win came 13 years after his second and earned Sauers the 2002 PGA Comeback Player of the Year award.
But he had no idea what kind of a comeback he was about to face.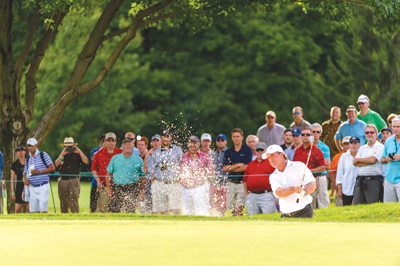 By 2006, the demands of professional golf, like constant travel and being away from his family in Savannah, had burned Sauers out on the game. He stopped playing and thought he was done with golf. In 2009, he began to suffer symptoms of what he thought might be rheumatoid arthritis. Doctors ruled that out along with other possible diseases such as lupus.
Then his wife noticed a strip of black skin underneath his arm. By the time he was in treatment, the damage had spread to more of his arms and also his legs. Finally diagnosed with Stevens-Johnson syndrome, a rare but life-threatening skin condition, Sauers required several skin grafts and was hospitalized for seven weeks.
"That was the worst seven weeks of my life," Sauers says. "It was brutal."
Unable to leave his hospital bed, Sauers' mind started returning to one thing: playing golf again.
"Every time I'd close my eyes, I pictured this golf swing in my mind," he says. "I thought, 'This is what I'm going to do when I get better. This is how I'm going to swing when I get out of here.'"
Sauers dreamed of playing professionally again but he had a long way to go.
"I had to go through a lot of physical therapy and try to get strong again," Sauers says. "At first, I couldn't hit a pitching wedge 20 yards, that's how stiff and weak I'd become. And my weight was down to 140 pounds."
Sauers started out hitting 2 or 3 balls in his backyard. Then 5 or 6. Then 8.
"It took about three months for me to be able to tee it up again," he says. But once he did, he surprised even himself.
"I played at the Ford Plantation and shot a 71," Sauers says. "I birdied 2 of the last 3 holes. And this was after years of not touching a golf club. I knew I had to give professional golf another shot."
Sauers joined the Champions Tour (now officially named the PGA Tour Champions) in 2012. He received a warm welcome back from all the other players on the tour.
"It made me feel at home," he says.
The U.S. Senior Open is one of the five major championships in senior golf. This year it was played at Scioto Country Club in Upper Arlington, Ohio. Sauers actually found the very difficult course to be an advantage.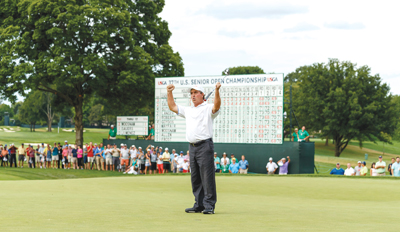 "I'm better on harder golf courses rather than the easier ones that become a putting contest," Sauers says. "I just concentrated on hitting fairways and greens, finding opportunities for birdies, and trying to limit mistakes."
Sauers plan worked and had him tied for first on the 18th tee of the final round. His steely par putt sealed the tourney and he was soon holding a major championship trophy.
"It's still unbelievable," Sauers says. "But it just goes to show that the mind can do wonders. Your mindset can break you, or it can make you a champion."
Sauers says that after what he's been through, he is a prime example of how setbacks can be overcome.
"Whatever it is that you want to do…be a golfer, a doctor, or whatever your dream is….you have to believe in yourself," he says. "Set goals, try to achieve them, and keep fighting every day. Put everything forward and just go out and do it."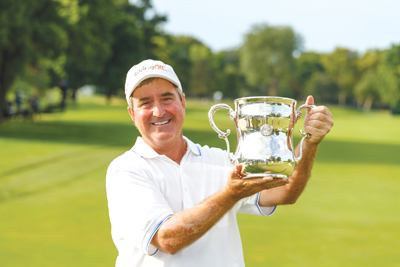 Photos courtesy USGA. All rights reserved.