Lean Defensive Machine
Savannah's Anthony Lanier II powers through obstacles as an NFL pro
When Anthony Lanier II first played football at Jenkins High, he got creamed.
"My coach put me at defensive end, and at practice he sent some guys on me," he recalls. After getting pummeled, the Savannah native got mad. His coach saw the anger in his eyes and told him to channel it through his opponents.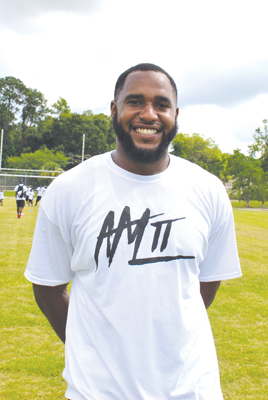 "Next time he sent them, I knocked all of them over," he says. "Coach said, 'That's how you play football.'"
Today Lanier II wants to continue proving himself as a defensive end, even after a hip flexor injury took him out of play earlier this season and cost him his spot on the Washington Redskins roster. As a free agent this season, Lanier II will undoubtedly continue to channel the inner drive that surprised everyone, even himself, as a young player in Savannah.
Making the Grade
Lanier II actually didn't play football or his other favorite sport, basketball, for his freshman and sophomore years at Jenkins because of his poor grades. It was a basketball coach, Gregory Oliver, who told him that not only would those grades keep him from going to college, but it would also stop him from living the life he wanted.
"I was frustrated, but I was determined to show him I could do better," he recalls. He not only got his grades up, he impressed his coaches on both the football field and basketball court. He did the same at Alabama A&M, where another coach, James Wright, told him he should focus his energy, strength and speed on football exclusively. He took his advice, graduating early and then signing with the Redskins in 2016 as an undrafted free agent.
'Kinda Small'
Lanier II admits to being a bit nervous and uncomfortable as a rookie in huge stadiums filled with screaming fans. But he managed to recover an opposing team's fumble in overtime on his first play of the season. The next year, he was determined to keep making an impact.
"I could run like a horse, but I was actually kinda small for my position," he says. "But I've always been told, 'It's not the size of the dog in the fight, it's the size of the fight in the dog.' I worked out every morning at 6 a.m. I was the last to leave training at night. I worked a long time to build up strength and weight."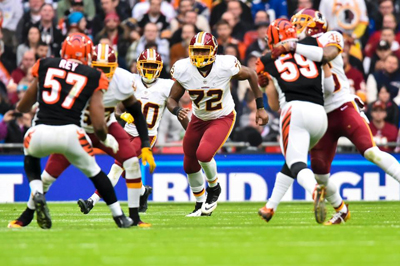 One interesting fact about the 6'6", 285-pound player is that he has about four to six percent less body fat than other players in the same position.
"I was at 15 percent in training, and that dropped to 13 percent once I started to play," he says. "Along with working out, I turned over a new leaf with nutrition—staying with whole wheat, greens and veggies. This is not something players always tend to do. I had to train myself to eat healthier."
Working Harder Than The Others
The mindset of making your own way, despite the obstacles, is one that he tries to share with young men in Savannah as well. He has held an all-day football camp each summer for the past two years. Along with game fundamentals and drills, part of his program is to teach his campers about personal responsibility, respect, and drive, just as his coaches from high school onward have taught him.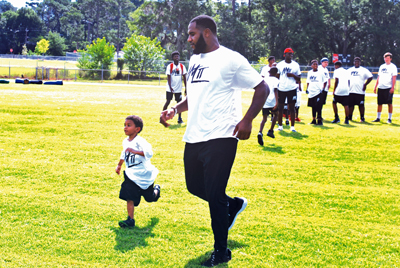 "I tell these kids to keep God first, and to remember that somebody else is going to work just as hard as they do," he says. "So they need to ask themselves, 'What could I be doing that the other guys are not?' Along with that, I remind them to listen to adults. When they are giving you advice, it's not just to get on to you. They are doing it because they care."
---
NFL game photo courtesy of Yolanda Lanier.
Do you wonder if body fat affects your son or daughter's athletic performance, or just their life in general? Learn more here.