That's Your Cue
Infants can give non-verbal signs of hunger, even before they cry
Seeking expert advice on breastfeeding is a great idea. It can be a challenge for any new mom and even for moms who have been there before. Your doctor, nurses, lactation consultants, and yes, even friends and family, are ready to help.
When the question is when to breastfeed, one of the best experts you can consult is your newborn.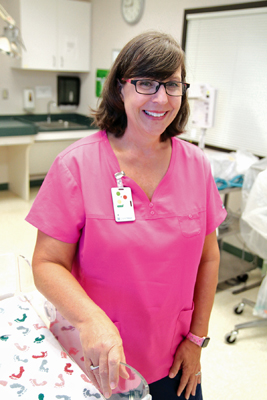 A baby's hunger is well-tuned to his energy and nutritional needs, so he knows when it's time for a fill-up. But because babies can't use words yet, there are other signs they give to parents. These signs are known as cues.
"Feed as soon as the baby gives you a cue, and feed as often as the baby cues," says Marybeth Milton, RN, a board-certified lactation consultant at St. Joseph's/Candler's Telfair BirthPlace.
Your baby is hungry when he or she:
Licks or smacks their lips
Brings their hands to their mouth/sucking on their fist
Moves their head back and forth, searching for the breast
Cries
Crying is actually one of the later cues for feeding. If possible, try to respond to earlier cues so that your baby is not too stressed to breastfeed easily. On the other hand, don't get too discouraged if you do happen to miss a cue.
"Breastfeeding is a journey," Milton says. "It's a new skill and it takes practice. Moms need to be patient, get plenty of rest in between feedings, and not be afraid to ask for help."
---
Looking for more tips on how to be successful at breastfeeding? You can find them on our Living Smart blog.
The Living Smart blog has new content every week, featuring tips and insight from experts on trending health topics such as women's care, heart health, nutrition, family medicine, and more. Find it all here.