Flau'Jae Can't Lose
After causing a buzz on America's Got Talent, the teen rapper from Savannah is ready to bring her message to the world
When a young girl named Flau'Jae first started rapping with her friends in the Victory Heights park in Savannah, it didn't quite have much lyrical quality yet.
"The words didn't even make sense," she recalls with a smile. "I was just feeling the music and the flow."
Her way with words improved quickly—a good thing since at the age of 14 she would find herself performing her words in front of Simon Cowell and millions of television viewers on American's Got Talent.
"I knew I was having fun rapping," Flau'Jae says. "But I never knew where it would take me."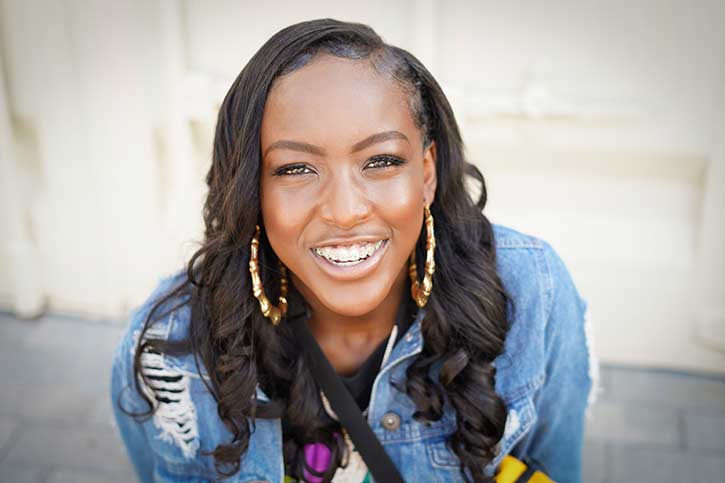 Filling A Void
Flau'Jae has always loved music, even before she started creating it. It was sometimes therapeutic—she never knew her father, who was shot and killed in Savannah before she was born.
"Growing up without my dad, seeing everyone else with their dad, it made think, 'Why me?'" Flau'Jae says. "But music helped fill the void, both when I was creating it and then going back and listening to it."
No one around Flau'Jae was surprised by the power of music in her life or her talent for it. As she grew up, she found out why: her father was the rapper Camoflauge. Already well known in Savannah, Camoflauge had just signed a record deal with Universal Music before he was killed.
"Knowing my dad was involved in music made me want to pursue it even more," she says.
Sharing Her Story
Flau'Jae's first break came when she was just 12 years old. She auditioned for a Lifetime reality series called The Rap Game, in which young hip hop artists compete to win a record contract. She was passed over for her first audition and then put on standby.
"It made me think maybe rapping wasn't for me," she recalls. But for the third season, the show's producers felt that Flau'Jae's story was important and she grabbed the last spot on the show over another contestant.
"It was really a blessing, and it felt like an affirmation," she says. Though she didn't win at the end of the season, she gained many new fans and the attention of America's Got Talent. Appearing on that show's thirteenth season, Flau'Jae performed her original song "Guns Down," telling the judges and the audience about how the words were inspired by the death of her father. Impressed with her heartfelt and hard-hitting song, the judges sent Flau'Jae to the next round.
Then, her performance of her song "I Can't Lose" compelled guest judge Chris Hardwick to press the Golden Buzzer, sending Flau'Jae straight to the quarterfinal live shows. Although her next performance got a standing ovation from the judges, she did not receive enough public votes to advance to the semifinals. Still, the experience felt like another affirmation for Flau'Jae.
"I got to share my story," she says. "And seeing everybody cheering—Simon Cowell and those other big names—it gave me more hope."
Giving Back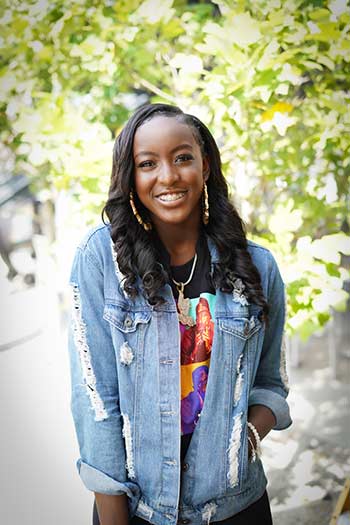 Flau'Jae is now hard at work on her first album while being homeschooled. But she makes time in her schedule to help the city that she says raised her.
"Savannah gave me so much, so I have to give back, no doubt about it," she says. She has been involved in various local organizations including the Frank Callen Boys/Girls Club and the Feed the Hungry campaign. Of course, she also hopes to see a reduction of gun violence in Savannah, which she believes is possible despite the city's turbulent history.
"There will always be work we have to do to get everybody on the same track, but I think our community can accomplish so much when we help each other and not try to outdo each other," she says. "We can minimize violence."
Both her musical and humanitarian efforts earned her the Key to the City from Mayor Eddie DeLoach and the Savannah City Council in 2018. She was the first teenager in Georgia to have received this honor.
She is currently a part of the Keep Savannah Clean campaign, which was created to reduce littering in Savannah by educating and engaging citizens from different backgrounds. The campaign aligns with the positive message of Flau'Jae's music, which is about living "how we truly want to live."
"We don't want to live in a trashy place," Flau'Jae says. "So let's just put trash in a basket instead of on the ground. It's a little thing, but little things can start an earthquake, you know?"
Check out Flau'Jae:
---
Beating Asthma's Game
Everyone, from her childhood friends to the audience of America's Got Talent, knows the energy and speed of Flau'Jae's voice. What many don't know is that she has asthma.
"People are surprised, they'll ask me 'how do you rap so fast?'" she says. As a lifelong athlete, Flau'Jae has found that symptoms of asthma—difficulty breathing, coughing and wheezing—are less detrimental to her when she is active.
"I play basketball, softball, and I swim," she says. "I've learned to pace myself, but I also work hard. Exercise just keeps me going. I've noticed that when I exercise more, my asthma affects me less than when I am sitting at home."
Flau'Jae believes the benefits of exercise are exponential—when her asthma symptoms are weakened, she feels not only physically better but also more confident.
"That's what working out does, it actually helps me with my music," she says. "It makes me feel like I can do anything, really. Anything you got going on, staying in shape can help."