Don't Sit This One Out
Some physical activity is better than none, even when life has messed up your routine
To be safe during the COVID-19 pandemic, most people are getting out less. But to be honest, a sedentary lifestyle—too much time seated or inactive—was already a problem for some people before this unusual time. Binge-watching has become a new pastime. Food delivery services have become more affordable and available. You may have become a couch potato without realizing it.
"Being sedentary is not about whether you have an exercise regimen or not," says Kate DeMasi, a Health Educator at St. Joseph's/Candler's Wellness Center. "It's simply about the act of movement. It doesn't require planned physical activity, such as classes and programs that can be costly."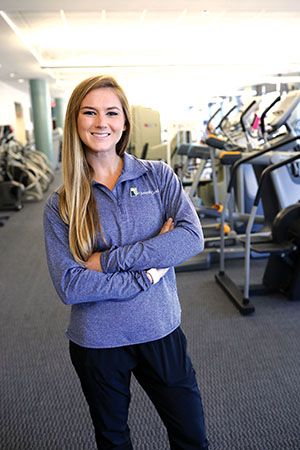 Even for people who aren't working from home, a desk job could keep them seated for hours. Their heart rate remains the same and many of their muscles don't move.
"Weight gain is not the only outcome that can come from extended sedentary behavior. There are also more pertinent effects such as loss of flexibility, which could lead to pulled muscles or injury," DeMasi says. "A sedentary lifestyle is also considered a secondary risk factor for chronic conditions such as increased cholesterol, cardiovascular disease, hypertension and diabetes."
New Behaviors
But how to avoid falling into sedentary habits? Especially if you're in a new situation, such as having the kids at home during virtual school? DeMasi says just a few small changes can help.
"If you have a desk job, whether at work or at home, you should set a timer that goes off hourly," DeMasi says. "Keep a checklist of activities you can do for five minutes when you get that reminder. It could be a few laps around the house or sit-to-stand exercises that you can do from your chair."
These regular opportunities for physical activity can elevate your heart rate and let your muscles move. The smartest option is to schedule time—and put a calendar on the fridge for the whole family to see—to be physically active for 30 minutes a few days a week. Utilize your neighborhood or a park to let yourself get outside and enjoy the moment.
"Try not to think of movement as a chore," DeMasi says. "Remember, this is what our bodies are meant to do."
---
For more tips on how to avoid being sedentary, even if you have a desk job, visit our Living Smart blog here.
If you want to start an exercise plan but aren't sure where to start, consider joining the Wellness Center and learning from experts like Kate DeMasi. Call 912-819-8800 to learn more.