Art Of the Blacksmith
While uncovering the history of skilled African-American blacksmiths, Gilbert Walker became one
There's a special sound that blacksmiths know. A unique "ting" that rings out from a shop as the blacksmith does their work.
Gilbert Walker recognized that sound in downtown Savannah one day. As a former officer in the Savannah Police Department's Mounted Patrol Unit, Walker was riding by on his horse when he heard the familiar ting.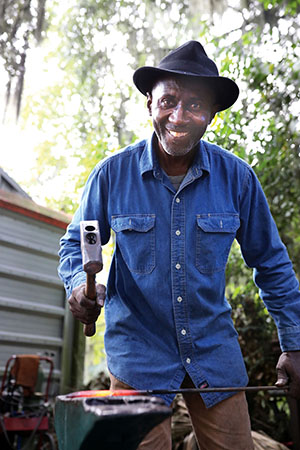 "I thought, 'What is a blacksmith doing downtown?'" Walker recalls. "I rode my horse up to the shop. This guy with bushy white hair, John Boyd Smith, just smiled at me."
Walker noticed that his new friend didn't have horseshoes or other utilitarian iron works in his shop. It was all ornamental work. That's when he realized that blacksmithing could also be an art.
Video: The story of Adinkra Symbols told by Gilbert Walker
Family Of Artists
From the time he was very young, Walker and his three siblings spent hours learning to make art with their hands. A single mom who was working many hours was able to give her kids a lot of one thing—coloring books.
"We colored all day long," Walker says. "Later we realized we could trace the lines from the books and then color them all over again. Then we started doing our own freehand work. Never realizing that our skill levels were being developed."
Walker continued to draw as well as create wood carvings as an adult, but considered it a personal expression—not something to share with others.
Later, as an SPD officer, he and his friends joined the mounted patrol as a dare. But Walker learned he was a natural rider. He also met a farrier, a special type of blacksmith who shoes horses.
"I would ask him all kinds of questions about it," Walker says. A history buff, he researched blacksmithing and its history for a couple of years. He learned that enslaved African-Americans were some of the most highly-skilled blacksmiths in the world, their talents brought to the U.S. by force. Through Smith, he met Philip Simmons in Charleston, SC, one of very few African-American blacksmiths in the country, and learned even more.
Eventually, he thought, "I wonder if I can do that."
Video: The story of the Good & Bad Snake told by Gilbert Walker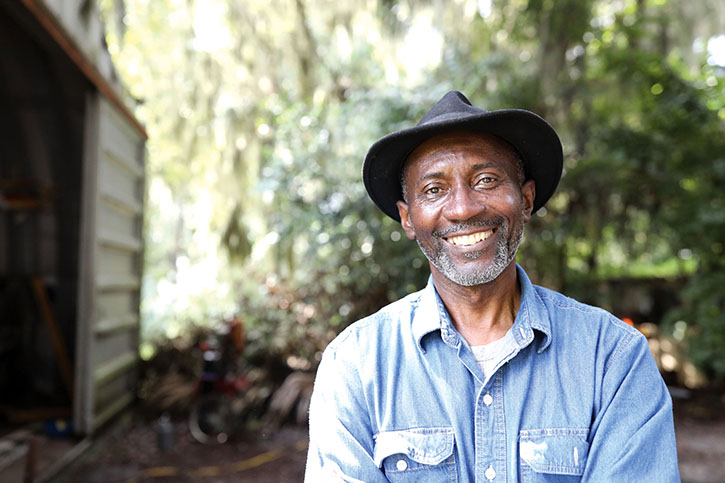 American Made
Not long after acquiring the needed tools and supplies—including a couple of used anvils—Walker found that he could do it, and quite well. He was soon doing demonstrations at events for organizations such as the Coastal Heritage Society, and word of his unique skill started to spread. Two of his major commissions include the gateway to the Sheriff Al St. Lawrence Memorial Range and Training Facility and a 9-foot iron bottle tree at the Pin Point Heritage Museum. He even got the attention of Martha Stewart a few years ago.
"My cousin told me about this contest called Martha Stewart American Made," Walker says. The competition was created by Stewart to recognize artists, craftspeople and small-business owners from across the country. Walker didn't think much would come of entering, and had almost forgotten about it when his cousin reminded him again with less than a week left to enter.
"I said, 'What the heck,'" Walker recalls. "It was my first contest. They selected me, and then it went through another round of selections, and then another, and then another until I was one of the ten finalists."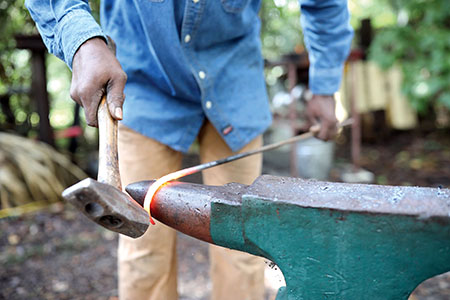 Stewart and her staff choose the finalists each year, who also have the opportunity to be an Audience Choice Winner through online voting.
"An artist on Daufuskie Island ended up winning, but I loved the fact that I was even in the contest," Walker says. "So many people were voting for me and I really appreciated their support."
Currently Walker works by commission only, as his regular job now as an investigator for the Savannah District Attorney's office keeps him quite busy. He does plan to create and sell more of his work after he retires, but blacksmithing for Walker is first and foremost a spiritual journey.
"I believe all of us have God-given talent, maybe more than one, but those talents come out at a certain time," he says. "It's in our DNA."
The skill and talent of Walker's ancestors is one of the main themes in Walker's work.
"I'm sometimes called the Gullah Blacksmith, which I accept because that is my lineage," Walker says. "I get to be one of the ones who tell that story."
Walker is a member of the Slave Dwelling Project, a collaborative effort to preserve slave dwellings at plantations and other historic sites, and use that setting to continue a dialogue of American history and how it relates to race relations today.
"I'm here to take my love of history and my artistry and put them together," Walker says. "But through my teaching and presentations, I also want people to see that blacksmithing is not a dying art. It's very much alive."
---
The Garden Behind The Shop
Another place where Walker has been spending a lot of time has been the area behind his shop. He started a large garden, not as a new hobby but as part of a new commitment to his health.
"Much of my family dealt with high blood pressure and diabetes," Walker says. "And some of that has to do with our diet. I'm turning 61 this year and I want to be around for a while."
Walker first changed to a heart-healthy diet, with mostly fresh vegetables, when he was being treated for blood clots a few years ago. When that alleviated, he fell back on old habits. The COVID-19 pandemic brought his attention back to his immune system and how it can be affected by diet.
"My garden provides me with natural foods," he says. "And I cut down on dairy, red meats, and starches. I'll eat chicken but not too often. I've lost 20 pounds."
Walker also added sea moss to his diet. It's a type of seaweed that is high in minerals and antioxidants.
"I knew I needed to eat better, and I wanted to eat from the land," Walker says. "I have more energy now, like I felt when I was younger."