Life with Lupus
Women are at a higher risk of developing this lifelong autoimmune disease
For more than two decades, Natasha Smith-David has managed an illness that no one could see.
"Everyone tells me, 'You don't look sick,'" Smith-David says. "But it's like that old saying—don't judge a book by its cover."
Smith-David has a condition called lupus. It is an autoimmune disease in which the body attacks healthy tissue instead of fighting infection. The disease, which is chronic, causes inflammation and pain most commonly in the joints or skin, but it can also affect internal organs such as the heart or kidneys.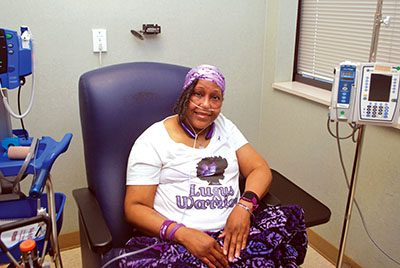 A Complicated Disease
"Lupus can hit about every organ system you can think of—brain, heart, lung, intestines, eyes, joints," says internist and rheumatologist John Demicco, MD. "At the same time, it's not a cut and dry diagnosis like, for example, heart disease where you have a blockage or you don't. For lupus there are gray areas."
There are 11 different criteria that physicians look at when diagnosing lupus, including an antinuclear antibody test that can help uncover autoimmune disorders. Patients must meet at least four of those criteria for physicians to be able to diagnose lupus. Blood work is also needed and the physician will do a medical and family history and physical exam to discern symptoms that point to a diagnosis. Joint pain is what brings many patients to Dr. Demicco at first.
"Other symptoms that a patient might notice is overwhelming fatigue, rashes, ulcers in the mouth, or hair loss," Dr. Demicco says. "These symptoms also present in other chronic conditions, which is why a certain criteria must be met before we can diagnose lupus."
Anyone can develop lupus, but women aged 15 to 44 are at a higher risk.
"Lupus tends to be genetic, and African-American women are more likely to get it than any other group," he says. "Also, it's a funny disease in that it can be quiet for some time and then all of a sudden…bang."
A Long Road
Smith-David had already been diagnosed with lupus when she moved to Savannah and found Dr. Demicco. Her independence was important to her, but she knew her disease would require ongoing care.
"My fatigue is, like, times ten," she says. "I have swollen joints, inflammation of my muscles and skin."
But those daily problems are just part of a long road that can present new challenges. Treating the effects of the disease for the past 24 years has taken Smith-David to a variety of specialists including a cardiologist, dermatologist, and a pulmonologist. She regularly needs physical and occupational therapy and was recently given an oxygen tank due to pulmonary hypertension, a complication of lupus that causes shortness of breath and chest pain.
"There were times when I wasn't able to walk," Smith-David recalls. "But through it all, my faith has gotten stronger."
Dr. Demicco helps Smith-David manage all of these different aspects of care and also prescribes medication for pain management.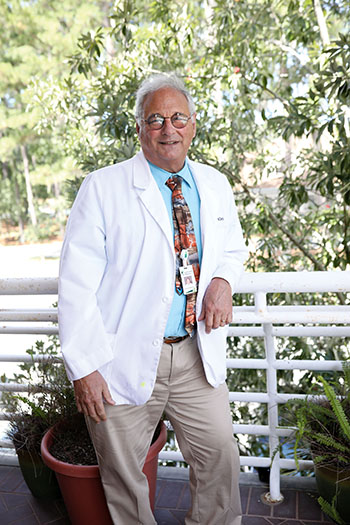 "Natasha has a lot of issues with pain," he says. "Fibromyalgia can also occur with lupus. It is not an easy thing to deal with."
The Right Treatment For You
There is no cure for lupus currently. Treatment plans usually involve a combination of symptom management and keeping the body's immune system strong while also protecting any organs that the disease has attacked. Because of the variety of symptoms in lupus, there are also several different medicines that may be prescribed including anti-inflammatories, anticoagulants, and immunosuppressives.
"Steroids were the mainstay in treating lupus for a long time, but they can have side effects including easy bruising, stomach irritation, and many others," Dr. Demicco says. "So we only prescribe steroids if the other medications aren't working."
Smith-David receives some of her maintenance medications at St. Joseph's/Candler's Center for Infusion Therapy.
"In that past, a flare up could put Natasha in the hospital," explains Natasha Brooklin, RN, who has helped treat Smith-David in St. Joseph's/Candler's Center for Infusion Therapy. "Her sessions here help her with pain and to keep her symptoms in remission and avoid another flare up."
Smith-David continues to pray for a cure, but in the meantime she hopes more people will learn about lupus and that research into fighting the disease continues to grow.
"I wish we could have come a little further than we have, but I am grateful for where we're at," she says. "I want people to understand that even though you can't see lupus, it doesn't mean it's not there. But I think people are talking about it more, and I'm happy about that. Lupus Awareness Month is in May, but I try to raise awareness all year because patients with lupus have to live with it every day."
---
Lupus is just one of many chronic conditions treated at St. Joseph's/Candler's Center for Infusion Therapy. Click here to learn more about what the center treats and how it works.