Worth Your Time
Extra lab work or tests after your doctor's appointment provide essential information for your care
Some patients want to see their doctor quickly and be done with it, even if it's once a year for an annual checkup. They cringe when they hear, "I'm writing you an order for blood work." Or an X-ray. Or whatever the extra step may be.
And if that extra step can't be done then and there, it may not even happen.
"That is human nature, especially as people get busy," explains Steven Corse, MD, at St. Joseph's/Candler's Primary Care at Medical Arts. "Labs or tests get put on a lower priority level."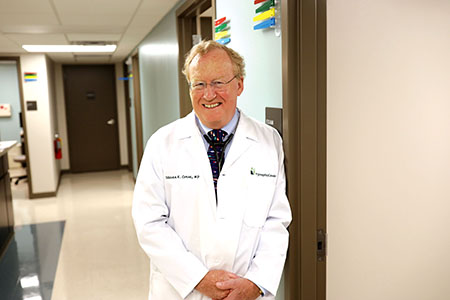 Some patients may worry about the pain of the blood draw needle or the low dose of radiation that comes with an X-ray. Others may feel the test doesn't address their main concern or it's not worth the time.
However, diagnostic tests and labs are a critical part of the whole picture—the whole you.
"Your medical history and your physical is the prime time for us to gather information," Dr. Corse says. But the visit doesn't always stop there. "We are kind of like detectives. We want to get all the bits of information that we can."
Some common labs or tests your physician may order include:
Basic Metabolic Panel: A blood test that helps doctors monitor medications or diagnose certain conditions
Cultures: You may have your throat or nose swabbed to help diagnose an infection
Urinalysis: A general screening test to look for early signs of disease or to monitor diabetes
X-ray: An imaging test to help doctors look at organs, bones, and tissues
CT-scan: An imaging test that uses both X-rays and a computer to make detailed images
Over time, labs can help doctors monitor your health in a variety of ways, including the effects of medication, the impact of chronic conditions, and the development of conditions that run in families. Tests can also verify a diagnosis or give physicians the clues they need to piece a more challenging diagnosis together.
"We also look for the ulterior ways that disease can make an impact," Dr. Corse says. "For example, with diabetes, not just checking blood sugar but also kidney function."
Taking the time to fulfill your doctor's request for labs or testing not only ensures you get the best care possible, but it also provides you with knowledge about your own health and body.
"When we order labs, we always contact the patient with the results," Dr. Corse says. "With the additional information we have gathered, the patient and I can discuss and make decisions about the next step of care as a team."