Mental Health Help Is Within Your Reach
There are several ways for everyone and anyone to access quick, non-judgmental mental health care
Dealing with COVID-19 is stressful. Dealing with the holidays is stressful. Let's face it, sometimes life is just stressful!
Feelings of sadness or anger are normal during these times, but you may find that they don't go away. Those lingering emotions don't differentiate by age, race, gender, or financial status. A mental health issue can happen to anyone and there is no shame in it. But if you have never dealt with this kind of crisis before, you may not be sure where to turn.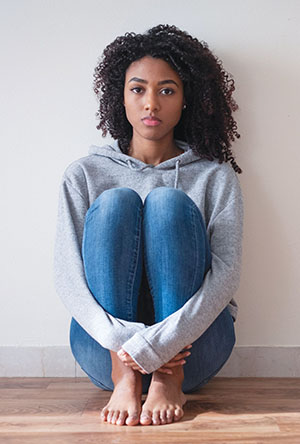 Who Can Help?
There are several types of mental health professionals who play different but overlapping roles in the care of patients. You may need only one or you may need more:
Psychiatrist – a medical doctor who specializes in diagnosing and treating mental health disorders. This includes the ability to prescribe medication.
Psychologist – a counselor or therapist who holds a doctoral degree in psychology. They can evaluate mental health conditions and treat through counseling, but typically cannot prescribe medications.
Mental health counselors – professionals who provide individual or group counseling either in private practice or in a hospital or clinical setting. Many counselors specialize in a certain area of mental health such as addiction, grief, relationships or post-traumatic stress disorder (PTSD).
Clinical social workers – similar to mental health counselors, these professionals evaluate and treat mental health conditions to both individuals and groups. Clinical social workers may work for government or human services agencies and help connect people with community resources, such as food banks, employment offices, and hospice care.
Don't be afraid to ask your primary care physician about which resource may be best for you and how to move forward. If you are having an immediate crisis, you may need to go to the emergency department, where you will likely receive crisis counseling and a referral for treatment.
The important thing is to remember that help is available. Don't suffer in silence or wait until you reach a crisis point. When a physical ailment can't be treated at home, you go to a professional. Think of mental health in the same way, and reach out for help when you need it.
---
Some Important Numbers
The National Suicide Prevention Lifeline is 800-273-TALK (8255). People who are hard of hearing can call 800-799-4889. Veterans should press 1 to reach the Veterans Crisis line.
The Substance Abuse and Mental Health Services Administration (SAMHSA) National Helpline is 1-800-662-HELP (4357).
The National Domestic Violence Hotline is 1-800-799-7233. If a person is unable to speak safely, text LOVEIS to 1-866-331-94-74.