Dogged Warrior
BJ Ganem is ready to give our country's veterans a best friend, teammate, and loyal pet—all in one
When William Joseph "BJ" Ganem joined the Marines in 1996, he had a very well-thought out plan.
"All of the planning I put into joining the Marine Corps centered around getting home in time for St. Patrick's Day in Savannah," Ganem says with a grin. "I left on December 15 for boot camp, missed Christmas, New Year's, the Super Bowl, all that stuff. Graduated on March 14, and had my 10 day leave over St. Patrick's Day week."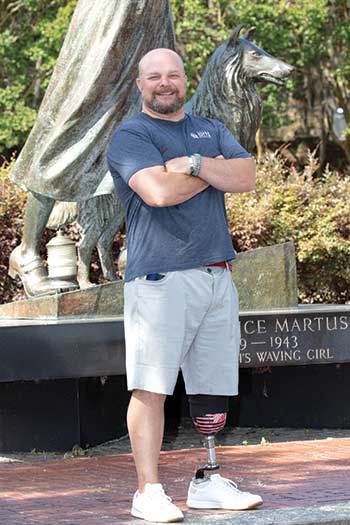 Luckily, Ganem realized that joining the military on a whim was actually one of the best decisions he'd ever made. Four years of active duty allowed him to develop his leadership skills, and he was proud of how much he and his fellow Marines could accomplish through teamwork and effective communication.
That was taken away, along with the lower part of Ganem's left leg, by a roadside bomb in Iraq.
Ganem struggled with the transition to civilian life, hitting many of the low points that can drive veterans to suicide. He got through his struggle by helping other veterans through their own, and in 2017 he created Sierra Delta, a wellness program based on the training and love of a dog.
Wounded
Ganem grew up on Wilmington Island and enjoyed the typical teen life of a Savannahian. He played football for Benedictine Military Academy, goofed off on Tybee, and helped out at the parties and catering events at the family business, Johnnie Ganem's Wine & Package Shop.
"Then I went to Georgia Southern and they politely asked me not to come back," Ganem says.
He found his calling in the military, and later when he took a sales job in Madison, WI, after completing active duty, Ganem joined a ready reserve unit.
"In 2004, we were activated to go to Iraq," he says. "On Thanksgiving night, on a routine patrol, I and three other Marines were wounded by a roadside bomb. Our gunner, Lance Corporal Ryan Cantafio, was killed."
Ganem's injuries would lead to a below-the-knee amputation and the end of his military career. Back home, it wasn't long before Ganem faced the common mental and emotional wounds suffered by many returning veterans.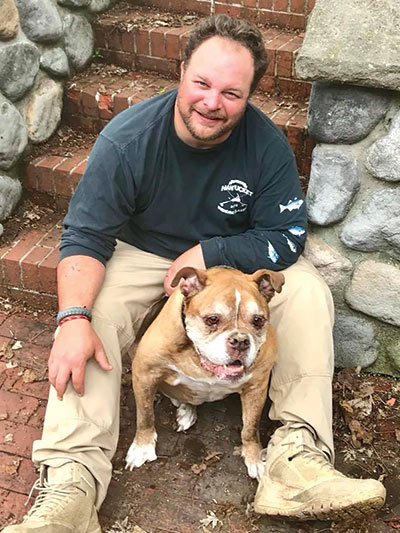 "I didn't care about the leg but I still wasn't okay with the fact that I wasn't a Marine anymore," he recalls. "All my depression and anger issues were manifesting in stereotypical ways—I went through a bad divorce, filed for bankruptcy, was drinking heavily, and getting to that point where I wanted to check out."
In his darkest moments, Ganem could rationalize how those who loved him would be okay if he were not around. Everyone except his little English bulldog, Dozer.
"My dog had no training or special talent, unless you consider eating a piping hot cheeseburger in one bite a special talent," Ganem says. "But what he would do was just be there. When I would have phantom pains—none of the medicines worked—he would just know and climb up and lay on my leg, and that helped everything."
Ganem knew if he "checked out," his companion would end up in a shelter and possibly be euthanized.
A Voice For Veterans
So Ganem found the strength to come back from the brink, and with that he found a new calling: helping other veterans. He earned a Master's degree in Social Work at the University of Southern California and became a veteran's advocate.
Soon his work got him national attention. As captain of the Wounded Warrior Amputee Football team—who get a chance to play flag football against NFL alumni—he was featured on Late Night with David Letterman. Ganem also met President George W. Bush, who created events like the Bush Warrior Open, where disabled veterans could compete on a professional golf course. Sports such as hand-cycling had become therapeutic for Ganem, but he was surprised at how good it felt to play a serious game of golf.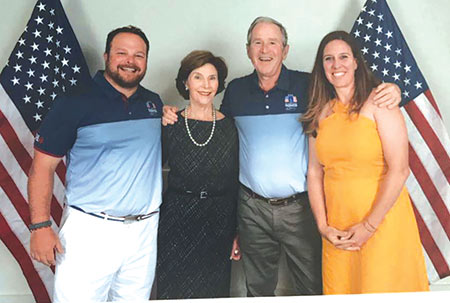 President Bush was one of Ganem's earliest supporters when he decided to form Sierra Delta: Service Dogs for Veterans. Ganem also received encouragement from Bill Bishop, founder of Blue Buffalo, and Tom McCann, founder of McCann Pets.
Ganem launched the program in 2017. Then he got cancer.
Good Dog
It is a testament to his tenacity and enduring energy that Ganem considers his cancer diagnosis and treatment mostly as just a bump in the road.
"I was diagnosed with lymphoma in 2018," Ganem says. "I did six months of chemo and six months of radiation. Having that time alone to recover, I just thought about what I'd learned from the first year of Sierra Delta. The tumor shrunk, and we got back to it."
Ganem's laser focus is equaled by his passion for helping as many veterans as possible, and knowing how much his program can help.
"The most common theme of the 20,000 vets that I've worked with has been that they've had a dog in their life that meant something to them," he says. "They've said, 'We just want a good dog in our life. A dog trained to our specific needs and lifestyle. A teammate."
Sierra Delta is different from a traditional service dog organization in that the focus is on wellness and the positive force that all types of dogs—even those adopted from a shelter—can have on veterans. Now Ganem is hosting his own events to raise awareness about the program, including golf tournaments at courses like TPC Sawgrass. He's also on TV again, most recently on The Drew Barrymore Show. He hopes the program will grow into a nationwide community of both veterans and civilians, and of course, all of their lovable dogs.
"Serving your country doesn't mean you have to put a uniform on and grab a weapon," Ganem says. "You just have to be a good human being. And dogs can really show us how to be good human beings."
---
Learn more about the program at sierradelta.com