Ask A Magnet Nurse
Exceptional Support Team For Nurses Means Exceptional Care For Patients
Catherine Otero RN, MSN, Ed., CV-BC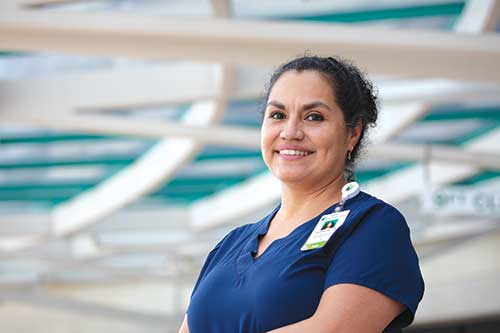 Clinical Quality Educator
St. Joseph's/Candler
Smart Living: Certified Nurse Aides (CNAs) and Patient Care Technicians (PCTs) are a part of hospital care at the bedside. CNAs help patients with eating, dressing, and bathing and help keep the rooms tidy. PCTs are additionally trained to take vital signs and perform blood draws. How do these roles help the nurse and what is the effect on patient care?

Catherine Otero: The CNAs and PCTs make a big difference! We can tell because when a busy floor gets a new CNA, the nurses get so excited. They are like, "Yes!" Because that means the nurses can focus fully on the clinical pieces of patient care. Otherwise, the nurses would be spending much of their time doing those other tasks. So the support they receive has a ripple effect. Nurses can focus on what they do best and the patients know they are being well taken care of by an effective, collaborative team of people.
PCTs can help with basic wound care, do EKGs and more. That's a big deal when it's 4 a.m. and you have five or six patients under your care! So our nurses have really been grateful for our apprenticeship programs.
SL: What are the CNA/PCT Apprenticeship Programs?
CO: They are part of a partnership we began with Savannah Technical College this year. Students can apply to study for CNA and PCT certification while working at St. Joseph's/Candler with full-time benefits. It's a great opportunity for anyone wanting to start a healthcare career. The students have been amazing—many of them just needed that chance to be able to work and go to school at the same time. With the financial and scheduling barriers gone, they are driven to make the most of this opportunity.
Some of the students have even said that they want to go to nursing school down the road. So they are not only supporting our nurses now, but they are also being mentored and seeing what it takes to be a great nurse. That's probably the most exciting part of this as we move forward. We could be not only helping nurses today but also creating more nurses in the future.
---
Learn more about the CNA and PCT Apprenticeship Programs and apply online at www.sjchs.org/careers/cna-pct.