Cutting Edge Shifts In Cancer Care
As treatments undergo a paradigm change, fighting cancer is more of a team sport than ever
Immunotherapy and genome-guided cancer treatments are changing what physicians thought was possible for individualized treatment. It's a trend that surgical oncologist Leonard Raymond Henry, MD, MBA, FACS, finds very exciting.
"The blooming of personalized cancer approaches and the advancement of these drugs has been pretty mind-boggling," Dr. Henry says. "There seems to be a new drug coming to market just about every day."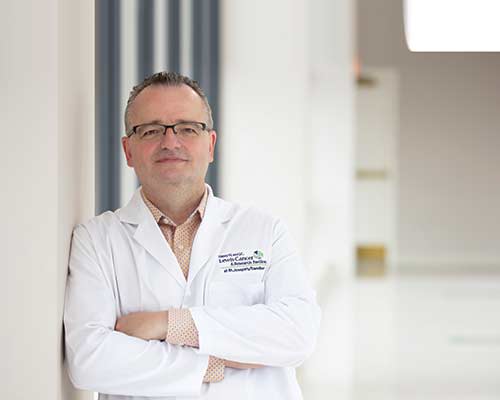 Is he worried these advances will put him out of a job?
"The role of surgery may change but it won't go away," Dr. Henry says. "Nor will radiation therapy. All of these treatments, working in conjunction, will become even more effective."
A Team Sport
Dr. Henry has been looking at the big picture of cancer care for years as medical director of the Goshen Center for Cancer Care in Goshen, IN. He joined the Nancy N. and J.C. Lewis Cancer & Research Pavilion (LCRP) as medical director in September. ("I'm probably the biggest Notre Dame fan in Chatham County," he says as an aside.) Earlier in his career, Dr. Henry served in the United States Naval Medical Corps, which took him all over the world. It also gave him the chance to treat cancer all over the human body.
"My military service allowed me to be versatile clinically," he says. "I've focused on a lot of different things—breast cancer, melanoma, thyroid, head and neck. I've also worked in the upper GI tract and performed lung resections. In the military sometimes you get used to doing whatever is necessary."
Advances in the surgical world have improved perioperative care and post-op pain, while procedures that used to be high risk are becoming more manageable, allowing for more viable candidates among patients. The impact of these changes will be felt even as targeted therapy continues to evolve and expand so quickly.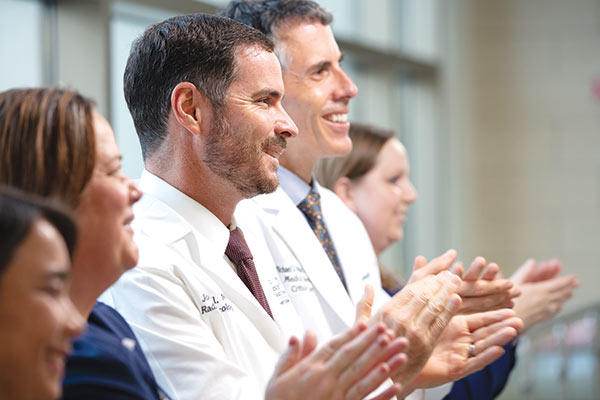 "One of the key things about cancer is that has to be a team sport," Dr. Henry says. "As things advance in one area, it changes the paradigm of how the other areas practice."
Through the collaboration of Clinical Effectiveness Teams at the LCRP, these advances are utilized to provide the best individualized treatment for each patient.
"Take a breast cancer patient, for example," Dr. Henry explains. "What the medical oncologist does impacts the surgeon and the radiation oncologist And what the surgeon does impacts everyone else too. But you also may have the aspect of genetics, plastic surgery, and other factors that impact one another. It quickly becomes incredibly complex and the entire team has a stake in decision making. Ideally, all of this is planned out before treatment begins."
Community Care
One of the attributes that attracted Dr. Henry to the LCRP is its participation in the Georgia NCI Community Oncology Research Program (NCORP). The program was created by the National Cancer Institute (NCI) as a comprehensive initiative to provide access to cancer trials to individuals in their own local communities. The focus on community aligns with Dr. Henry's philosophy on what the LCRP already does well and can build upon for the future.
"A doctor and a patient have that sacred relationship," he says. "I believe a cancer program should have that kind of relationship with the entire community. We have great doctors; we'll take great care of you. But it's also important to nurture that longitudinal relationship with the community to reduce the burden of cancer through wellness, prevention and screening and cancer survivorship."
For Dr. Henry, that wide scope of care also includes advances in treatment, education, palliative services and research.
"The work that has been done has been fantastic so far," Dr. Henry says. "We just hope to grow off of that and continue to meet the needs of the people in this region, which I have quickly come to love."