Unpunished Panache
Culinary Artist Libbie Summers lives a food inspired life
Complex simplicity or simple complexities?
That's the quandary one faces when attempting to describe the prolific talents of culinary artist and foodie guru Libbie Summers.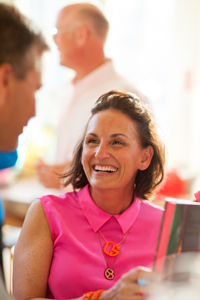 Even her professional resume is a cornucopia of epicurean and non-epicurean skills: private chef, set decorator, food stylist, recipe inventor and re-inventor, senior food editor, culinary producer, artistic creative director, video producer, blogger and writer.
Yet always, the simple ingredient at the center of her complex medley of skills is her glorification and celebration of food.
Summers began her career as a chef on private sailing yachts traveling the world and honing her skills under some extreme weather conditions. She attributes her trademark ingenuity and inspired food flair to the tight quarters and limited refrigeration of the sailing vessels. Those challenges caused her "to 'MacGyver' many dishes out of extremely limited resources." Years ago, one of those many sailing trips led her and her husband Josh to anchor in Savannah, a place they have called home for more than a decade.
Today she is an award-winning producer of imaginative lifestyle content for print, online and film including Condé Nast Traveler, Bon Appétit, The Huffington Post, Gilt, Southern Living, Better Homes and Gardens, Country Living, The Food Network Magazine and Paramount Pictures.
To Summers, food is more than mere sustenance. It's a celebration of fresh and local ingredients presented creatively, often with a mix of flavor-infused ingenuity, vigor and personal flair that can only be describe as "panache."
"Food is an experience that should be revered," Summers says. "To do that properly, you have to think past the parameters of the kitchen and the plate itself to the entire dining experience. To me, food is a lifestyle," she admits, and lives what she calls a "food-inspired life."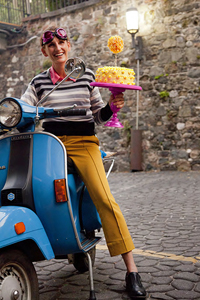 Such a life involves, not only the detailed preparation and creative presentation of the meal, it involves the entire dining experience and environment-the ambience, the décor, the cutlery and glassware, the beverages, even one's choice of dining companions, Summers says.
"Food is powerful. It brings people together to share and to be social which is always a healthy thing. It can trigger forgotten memories, like a favorite dish from your childhood, or a long forgotten taste of your grandmother's best dessert. Food is a core component of everyone's life. I embrace that and try to share my philosophy with others."

Her recipes reflect many sides of her personality: sometimes whimsical, sometimes nostalgic, sometimes traditional, yet often times rebellious and untraditional. Her trademark has become her flair for blending unusual flavors, or reinventing comfortable old-fashioned dishes by updating them with fun and stylish twists.
Fueled by her online how-to videos and monthly podcasts, Summers has a strong social media voice and following. Her online food blog (produced in collaboration with photographer and friend Chia Chong) was voted the Best Food Blog of 2013 by the International Association of Culinary Professionals. Each week, they isolate the beauty of one food related item and twist it, turn it, ponder it, eat it and photograph it for an fresh and inspired viewpoint.
Again, simple but complex.
Her latest cookbook, Sweet and Vicious - Baking with Attitude, is an unapologetic, caramelized look at the sweeter things in life. Her first collection, The Whole Hog Cookbook--which remains popular among cooking aficionados--presents a spiritual reverence and unabashed revelry of pork.
"On the surface, one would not think my books are necessarily healthy," she admits, "but neither am I an advocate for indulgence. Many of my recipes and ingredients are infused with flavors that actually reduce the amount of sugar and fat."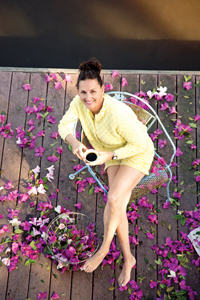 Summers stresses that her food inspired philosophy, body and body of work, not only involves a healthy and creative outlook, it also involves her personal health philosophy.
To her, that means working out religiously to maintain her slim physique. "I have always felt that health is a combination of genetics, personal responsibility and moderation," she states.
"You have to know and respect your body. Everyone should be aware of what they eat and how it personally affects them. If that means working out feverishly so that you can have that slice of pie or extra helping of potatoes, indulging every once in a while is probably ok, if it means you are more in tune with yourself and your body."
"When you make a batch of cookies, you don't eat them all. You have one and you share the rest with your family and friends," she says.
It's so simple, yet so complex.

To learn more about Libbie Summers and her food inspired life, visit her website.

Images courtesy of Chia Chong and Jade and Matthew Take Pictures.