Clearing The Air On COPD
A common lung disease encompasses both emphysema and chronic bronchitis
Despite the growing unpopularity of smoking, the effects of this very bad habit are still threatening the health of millions of Americans. Smoking is the primary risk factor for Chronic Obstructive Pulmonary Disease, or COPD, which is the third leading cause of death in this country. But what is COPD?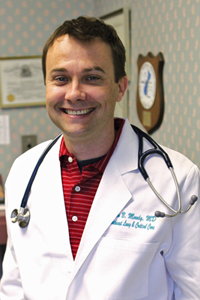 "Chronic Obstructive Pulmonary Disease covers a spectrum of disease encompassing emphysema and chronic bronchitis," explains Ryan B. Moody, MD, FCCP, of Southeast Lung Associates. "COPD is a chronically progressing disease process characterized by progressive airflow limitation. It is a treatable and preventable disease process."
Depending on which end of the spectrum a patient falls, the symptoms of COPD can vary.
"Individuals with chronic bronchitis experience chronic productive cough and shortness of breath, while those with emphysema may only experience shortness of breath," Moody says. "From time to time, individuals with COPD will experience an exacerbation with symptoms of increased mucus production, worsening cough and worsening shortness of breath."
Though smokers are most at risk, Dr. Moody also notes that occupational dust and chemical exposures as well as indoor and outdoor air pollution exposure can contribute to the development of COPD in non-smokers. Genetically, individuals who lack the ability to produce a lung protective protein called alpha-1 antitrypsin are also at greater risk for the disease.
Treatment for COPD is largely driven by the Global Initiative for Chronic Obstructive Lung Disease (GOLD) guidelines.
"GOLD utilizes a staging system to categorize COPD and subsequent treatment suggestions," Moody says. "Each patient's treatment plan may include daily use of inhalers, use of rescue inhalers, or the use of a nebulizer machine, which administers medication in the form of a spray."
Dr. Moody uses pulmonary function testing to screen patients for COPD.
"This testing quantifies lung function and lung capacity," Moody says. "This is what helps to drive treatment strategies."
Learn more about COPD by taking our quiz.