Treasured Island
Georgia's Ossabaw Island is an unspoiled haven full of wildlife, history and mystery
About 4,500 years ago, Native Americans came to Ossabaw Island to hunt, arriving by boat in a land of sweeping salt marshes, moss-draped maritime forests, fresh water habitats and wide sandy beaches, all teeming with wildlife.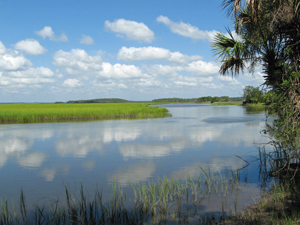 Today, the island has changed very little—it is still only accessible by boat—and people from all walks of life are still nourished by the island's treasures. Archeologists unearth stories of native and historic communities. Teachers and school children collect and examine ecological data. Photographers, writers, painters and musicians find endless inspiration in the island's beauty and solitude.

Ossabaw is also the home of Eleanor "Sandy" Torrey West, the island's best-known and longest resident, who celebrated her 101st birthday this year. West is both part of the island's history and part of the effort to preserve it as an undeveloped sanctuary.

"Sandy's love of Ossabaw began in her childhood, shortly after her parents purchased the island as their winter retreat," explains Elizabeth DuBose, Executive Director of The Ossabaw Island Foundation. "She first set foot on Ossabaw Island at age 11 in 1924."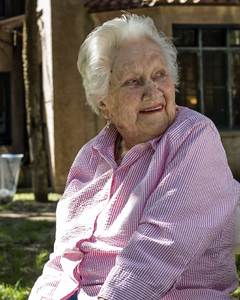 Many years later, Mrs. West and her brother's children inherited the island and the winter home her parents had built there. West and her husband Clifford established an artists' retreat and a cooperative community, as well as funding scientific research and educational programming on the island. Mrs. West thrived on Ossabaw and spent much of her life exploring every inch of it, either on foot or on horseback (her favorite way).

"Over the decades, Sandy West's welcoming nature and curiosity about all types of people brought hundreds of people to Ossabaw for short visits or long stays," Dubose says.

In the early 1970's, rising property taxes forced the Torreys and the Wests to face the necessity of giving up ownership of the island.

"Rather than sell Ossabaw for private development, the families sought to assure that the island would remain in the unspoiled condition that they valued and had worked to preserve for nearly fifty years," Dubose says.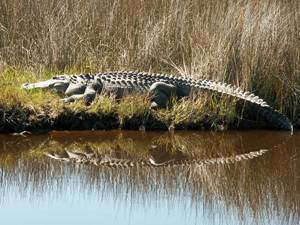 In an arrangement facilitated by then-President Jimmy Carter, the Torrey/West family sold Ossabaw Island to the state in 1978. The sale stipulated that the island be declared Georgia's first heritage preserve—set aside in perpetuity for scientific, educational, and cultural uses only. The Ossabaw Island Foundation, a non-profit, was established in 1994 to serve in partnership with the state of Georgia as stewards of Ossabaw Island's Heritage Preserve.

Today, Sandy West entertains visits from her four children, grandchildren, and friends to her home on the island. She is still agile for her age and able to walk with the help of a walker. Though she shies away from media attention, the centenarian does provide continued encouragement to The Ossabaw Island Foundation in its mission to "reveal the voices and mystery of Ossabaw."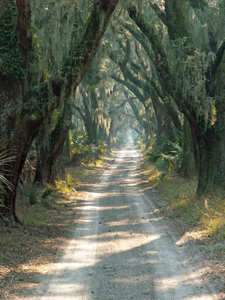 "Protecting the Heritage Preserve while sharing the island is the guiding principle of our foundation," Dubose says. "We have facilitated science, education, historic programming and preservation, and creative study on Ossabaw Island, while preserving it for future generations."

Some common visitor requests that do not fall under the Heritage Preserve guidelines include weddings and recreation-only weekend getaways. However, there are plenty of other ways for visitors to be transformed by their Ossabaw experience.

"Visiting groups might be plein air painters, a birdwatching club, a book group, a retired teachers' group, a family reunion looking for a history or nature tour, or a Girl Scout troop wanting to camp and work on a badge," Dubose says. "The foundation also hosts six or seven trip each year. The list is limited only to one's imagination."

Learn more about Ossabaw's magnificent history and wildlife, as well as the work of The Ossabaw Island Foundation, at www.ossabawisland.org or by calling 912-233-5104.

Longevity 101
Living in a peaceful barrier island may be a part of the reason Sandy West has lived such a long life—Ossabaw Island's most famous resident turned 101 this year. But one doesn't have to live in paradise to increase their longevity. According to Jacqueline A. Caffrey, MD, of St. Joseph's/Candler's Primary Care located in Rincon, there are some basic lifestyle lessons that anyone, anywhere, can learn to help them see more birthdays.

"Staying physically active is a major contributor to a long life, and a person can be active anywhere," Caffrey says. "My elderly patients in good health participate in various activities: walking frequently, volunteering, going to the senior center, and going to exercise classes."

"Staying active can not only help with overall health but also with medical conditions such as diabetes, hypertension, hyperlipidemia, coronary artery disease and mood," Caffrey adds. "It helps arthritis as well, keeping joints active can help stiffness and pain."

"My elderly patients in good health also stay mentally active—doing puzzles or reading," Caffrey says.

Dr. Caffrey also suggests that seniors watch their intake of processed foods.

"Try to eat single ingredient foods such as fruits and vegetables, beans, fish, and lean meats such as chicken," Caffrey says. "These foods can help fight inflammation in the body."

Finally, whether to read, do a puzzle, or to exercise, Dr. Caffrey definitely encourages turning off the TV.

"Do not succumb to thoughts that you shouldn't be active because of age," Caffrey says. "Find what you like to do, whatever your environment or climate, and keep moving."