Knowing Your Caregiver And Their Role In Your Treatment
Joyce Ross-Moore, APRN MSN ACNS-BC OCN
Clinical Nurse Specialist
Candler Hospital

Smart Living: Is there a protocol in place for how a nurse should introduce themselves when they first meet a patient?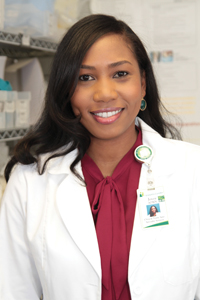 Joyce Ross-Moore: Nurses always greet and introduce themselves when they meet their patient, whether it is in the beginning of a shift while doing bedside report or in the Outpatient Surgical Services Department prior to a procedure. We always want to explain to our patients what we are doing and why because we feel it is important that our patients and families stay informed about their care. We also use white boards in the patient's room to communicate important care items.
All of the staff in the hospital—such as transporters, physical therapists, and even the volunteers who deliver flowers—share the same values and demonstrate the same behaviors as nurses. No matter where they come in contact with us, patients always know why we are there and that we care.
SL: In your experience, do patients experience less anxiety when they know, as soon and as clearly as possible, who is coming into their room and what they are there for?
JR: Absolutely! Patients feel more prepared and at ease when they know what the role of their caregiver is. Every shift, we always write the names of the entire care team (Physician, Nurse, PCT, Therapist) on the white board in the room, along with the phone number to the nurses' station.
SL: Do nurses and staff wear different colored scrubs that designate their role in the hospital?
JR: Yes. You will always be able to tell when you being cared for by a Registered Nurse because we are the only discipline that is permitted to wear white. You will often see us either in all-white scrubs or white tops with navy blue bottoms.
SL: Are there other anxieties or questions from patients or family members that nurses try to be sensitive to when they are meeting a new patient?
JR: We find that if we are communicating well and individualizing the patients care based on their needs and preferences, this significantly reduces the anxiety patients and families feel while in the hospital. Good communication is always a priority.