Unique Assessment Skills Help Nurses Care For Patients In Neuro Intensive Care
Renee Denmark, MSN, RN, CNRN
Neuro Intensive Care Unit, St. Joseph's Hospital
Smart Living: What is the role of a Neuro-ICU nurse?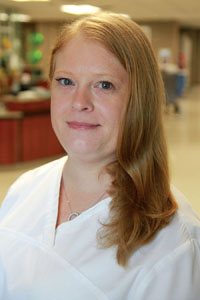 Renee Denmark: Neurological nurses provide bedside care for patients who have issues involving the nervous system which includes the brain and spinal cord. This can include an ischemic stroke, which is when a blood vessel to the brain is obstructed by fatty deposit or blood clot, and hemorrhagic stroke, which occurs when a weakened blood vessel ruptures and bleeds into the brain. We also care for patients who are being treated for aneurysms, seizures, brain tumors, Parkinson's disease, and spinal cord disorders or injuries.

Neuro-ICU nurses' jobs are to monitor the patient's condition, administer medication, and also help educate patients and their families who are dealing with a potential life-altering event. Our goal is to help give patients their best chance at returning to a normal life after suffering any type of neurological impairment.

SL: Some patients in the Neuro-ICU are at risk for a repeated neurological event or for their current condition to worsen. How do nurses recognize these events?

RD: I think experience is a big part of what makes a Neuro-ICU nurse exceptional. We develop an innate method of identifying a cognitive decline; often these signs and symptoms are subtle. Of course we look at vital signs, levels of consciousness, mentation, motor function, reflexes, sensation and whether or not they can distinguish between sharp and dull pain. We ask them about their vision and check for changes in their pupils. We see if they can identify an object in our hand, if they can raise their arms, or if they are suddenly sleepy or less alert.

All of our nurses receive Advanced Stroke Life Support training, which includes the Miami Emergency Neurologic Deficit, or MEND, assessment. This is a short, concise neurological assessment that nurses can use to evaluate a patient quickly and frequently. The Neuro-ICU also has several nurses nationally certified in neurological and critical care, indicating their dedication to providing excellent care to this patient population.

We also have special equipment for our needs in the Neuro-ICU, such as providing intracranial pressure monitoring. This helps ensure that our patients' intracranial pressure, and therefore blood flow, is within the normal range.

SL: Are family members allowed to visit the Neuro-ICU?

RD: Yes, family members are allowed to visit. However, it is also very important to us that our patients get the rest that they need. Our policy is designed to be patient centered and provide rest, safety, privacy, and confidentiality while promoting care and rest during a time when patients are ill. We strive to keep vulnerable families supported. We want to get every patient back to the best quality of life possible.