Nutritional Rock Stars
Popular farmers markets are earning fruits and veggies, and the local farmers who grow them, a big number of fans
You see the fields as you pass on the highway. Farmers rise at daybreak to pick their crops. They truck the vegetables and fruit into town and set up their stands. No giant freezers, no older items mixed in with the new. People come and get their meals for the week, maybe chat with the farmer a bit.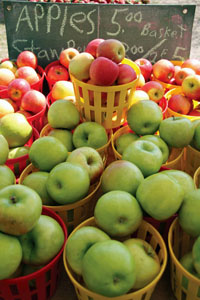 Yes, this is your grandmother's farmers market. It's also one of today's biggest health trends. These markets are so popular that they have replaced our local celebrity for this issue of Smart Living. But why?

"They have some of the most beautiful fruit and vegetables, and it is all unbelievably fresh," says Tom Garner as he surveys the stands the Pooler Farmer's Market, one of several markets in this region. A former grocery manager with a large superstore chain, Garner has seen both sides of the produce process. He and his wife Kim are now devoted fans of farmer's markets. "It was picked this morning, and it's what we eat."

Wilson Gruber of Gruber Farms brings his vegetables and fruits in from St. George, South Carolina. He and the other farmers who haul their produce to the markets each week agree that customers are looking for not just freshness but also the personal connection they can only find with a local farmer or business owner.

"They know it's been taken care of and grown safely," Gruber says. "And I think they want to know the person that grew the stuff that they eat."

What farmers market customers enjoy in taste also benefits them nutritionally.

"Freshly picked, in-season produce is at its peak in flavor and nutrition," says Andrea Manley, a clinical dietitian at St. Joseph's/Candler. "Fresh fruit and vegetables are full of antioxidants and phytonutrients."

While these two natural chemicals aren't likely to be on the mind of most people at the farmer's market, they play a big role in health. Antioxidants have the ability to block free radicals, which are oxidation reactions that can be damaging to cells. Some of the damage caused by free radicals could even lead to cancer.

Phytonutrients are contained in not only fruits and vegetables but also whole grains, nuts, and beans. They can also help to prevent disease and keep the body working well. Examples of phytonutrients include carotenoids, which provide the red, yellow, and orange colors in many fruits and vegetables. Carotenoids can act as antioxidants and can also be converted by your body into vitamin A.

Manley also notes the health benefits of fresh versus processed: "When foods are processed much of their nutritional value is lost and replaced with unhealthy fillers that add taste through empty calories, sugar and carbohydrates."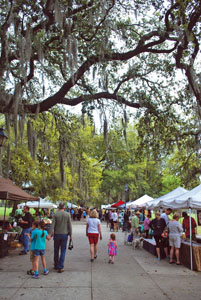 Teri Schell, who was the Executive Director of the Forsyth Farmers Market for several years, believes the health benefits of fresh food should be accessible to everyone, even those who struggle with low incomes. This is one of the reasons she helped found the market and why it accepts SNAP EBT, formerly known as food stamps.

"One of the main impetuses behind our market is to be affordable and welcoming to our low-income neighbors," Schell says.

Farming had been part of Schell's family for generations, and she witnessed a decline in family farms over the years that she wants to help rectify. She believes a focus on nutritional health has shifted the perception of farming again, this time for the better.

"There's been a change in the national dialogue about healthy food, what that looks like, and how it's produced," Schell says.

Schell's thoughts are echoed by Sarah Iwanski, a mother of two who brings her children with her to the Pooler Farmers' Market.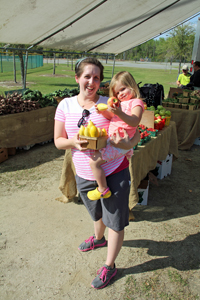 "Instead of seeing me prepare dinner from a frozen bag, my kids actually get to come with me here and talk to the farmers," Iwanski says. "Everything is so colorful, so they're more engaged with this food and it's easier to get them to try things."

Iwanski recently replaced boxed spaghetti with spaghetti squash from the market, for example.

"My kids were surprised at how much they liked it," Iwanski says. "The fresh stuff tastes better, and the more of it that comes out, the more creative I can be."

Wilmington Island resident Debby McIncrow also strives to find the healthiest foods possible for her family, and for years she did the best she could with grocery stores.

"I'm the number-one person that brings food in the house, so I know that whatever I choose is what gets consumed," she says. Looking to create a positive force in her community, and having fond memories of going to a farmers market as a child, McIncrow helped start the Wilmington Island Farmers' Market, where she is now the Market Manager and one of its many happy customers.

"Our farmers harvest their produce the day before, our local vendors bake their goods the night before," McIncrow says. "Families come to this great environment, get their groceries, and know where their food is coming from."

Many vendors at the Wilmington Island Farmers' Market also donate food items to one of Savannah's night shelters. It's one of many ways McIncrow has seen how the passion of farmers market fans has contributed to the health of her community.

"If I can't change the world," she says, "I can change something in my own backyard."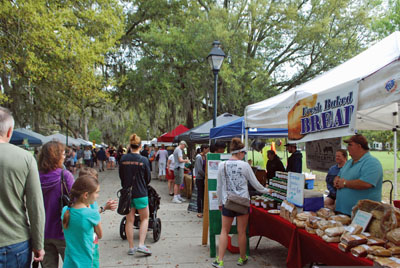 No matter what corner of our region you call home, there is probably a farmer's market not too far away. Along with fruits and veggies, customers can find pastured meats, honey, dairy products, fresh breads, fresh pastas, sauces and jams. Learn more:

Farmers Market of Bluffton - www.farmersmarketbluffton.org
Forsyth Farmers Market – www.forsythfarmersmarket.com
Wilmington Island Farmers' Market - www.wifarmersmarket.org