How To Help Your Elderly Loved One During Their Hospital Stay
Teresa Warren RN BSN MSSG CCRN
Clinical Manager, Candler ICU/PCU
Smart Living: Adult children may want to help their mom, dad, or other elderly loved one when they need to be admitted to the hospital for a procedure. What can they do to help?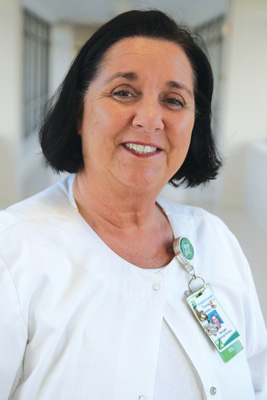 Teresa Warren: There are a number of strategies that can help. The first is documentation of medications. Maintaining a daily list of drugs prescribed and received can help prevent adverse drug effects and interactions. Also bring copies of the advance directives with durable power of attorney for health care decisions. After surgery, adult children can help with early mobilization and activities. For example, activities like walking should be encouraged unless prohibited for a specific reason. There is also discharge planning—making sure appropriate care is continued after the hospital stay. Things like rehabilitation and physical therapy will be arranged prior to discharge.

SL: What about before the surgery?

TW: To make the admission process run smoothly, bring the following items to registration: insurance card, prescription card, identification card, any medication in the original bottles, and x-rays and test results if requested by the physician. Sometimes this process can be done prior to the day of admission or day of surgery for outpatient procedures.

The physician will review the plan for the hospitalization or discuss the surgical procedure to be done and obtain written consent from either the patient or family member. This is a great time to ask questions regarding medications, pain control, diet, and activity. Make a list of your questions – then write down the answers. We encourage you to continue asking questions regarding care and what to expect next. Adult children can reinforce this information to patients in an emotionally supportive way. Families also provide valuable information to nurses regarding the patient's daily routine, food likes and dislikes, and their routine at home. The more familiarity we can provide, the more comfortable the patient will feel.

SL: How do nurses assist these adult children who want to help their parent have a good experience during their hospital stay?

TW: We practice holistic care—we know best outcomes result from addressing the emotional, physical and spiritual aspects of care. We also know that families play a huge role in meeting the needs of their loved ones. They are familiar with their beliefs, preferences and routines. While the nursing staff has the responsibility of the care of the patient, family involvement is appreciated. Through collaboration, communication and planning, adult children can be as involved as they choose to be. Spiritual care is another aspect. The nursing staff and pastoral care staff always collaborates with the patient and family to ensure the spiritual needs are being met.