Fire In The Water
Olympic bronze medalist Bill Forrester now teaches young swimmers to be their best
When Mark Spitz won seven gold medals and set seven world records in swimming at the 1972 Summer Olympics, it sparked a fire in the heart of a young Bill Forrester.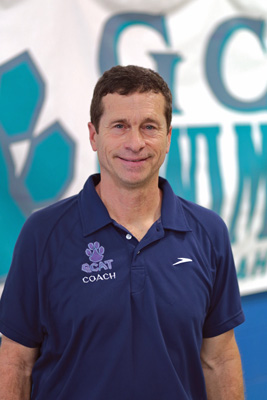 "I watched every one of those races and it made a pretty big impact on me," Forrester says. "I basically decided then that I wanted to make the Olympic team."

Forrester was 14 years old and already an accomplished swimmer, having fallen in love with the sport growing up in Birmingham, Alabama. He had already competed in national competitions, but his move to Florida to train with head coach Randy Reese at age 17 raised the level of training, and expectations, higher than he had ever known.

"Training with Randy Reese was a whole new concept for me," Forrester says. "Even by today's standards the training was top-notch, and he even had me training out of the water—running, resistance training, flexibility. He had a pretty good idea of what kind of athlete gets to the Olympics and how to get them there."

Four years after being inspired by Mark Spitz, Forrester was there at the 1976 Olympics in Montreal.

"From the day I earned the spot in the Olympic trials, all the way to the day I competed, it was surreal," Forrester recalls. "I had been to the World Championships the year before, so I had a little bit of experience, but now we are talking about the Olympics. It's a pressure all its own."

The men's 200-meter butterfly was the first event of the games and the first set of medals given out. Forrester won the bronze. By his side on the podium were two of his teammates, Mike Bruner with a gold medal and Steve Gregg with a silver.

"It was so exciting, and to have two other Americans on the podium at the same time was a great experience," Forrester says.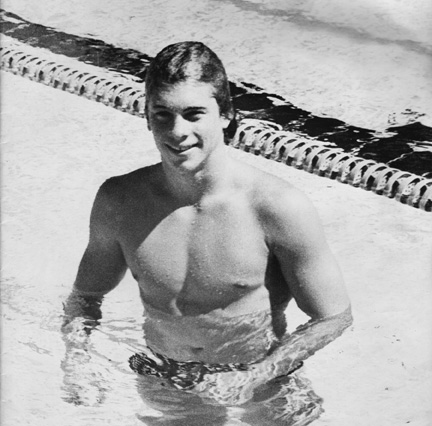 Forrester continued to swim in college, coached at Auburn University by his high-school coach's brother, Eddie Reese. Years later, he moved to Hilton Head to be near family, then eventually settled in Savannah. In 1994, he created the Georgia Coastal Aquatic Team, also known as GCAT. Forrester is the head coach for the competitive, year-round swim team for children ages 5-18.

"I had helped with a summer league program before that, and starting this team seemed like the right thing to do," Forrester says. His goal for the past 22 years has remained the same: to spark the same fire inside his students that was lit inside him as a young boy watching Mark Spitz.

"Coaching is different in that I'm not in there doing the work," Forrester says. "I have to impress upon my athletes that if you do certain things in a certain way, you can excel. The challenge is to build that desire within each of them. If I can do that with even one athlete, I feel like a success. But the goal is to spark that fire in all of my swimmers' hearts and minds."

Forrester strives to help his swimmer's reach their own goals of success, at whatever level to which they aspire.

"We reach for each of their individual goals, and I help them work to be the best they can be," Forrester says. "Whether it's just making the best time for their level or making it to the Olympic trials."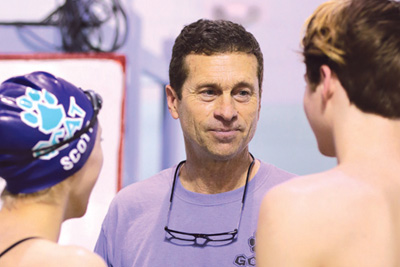 Several of Forrester's students have, in fact, gone on to Olympic trials, and Forrester believes that as the program continues, there's a good chance one of his students will make an Olympic team. He remembers well how much of a challenge it is, and is still impressed by the young people who have achieved their dream of competing in the Olympics. He says he'll absolutely be watching and cheering for the athletes in this year's Summer Olympics in Rio.

"What has stood the test of time is seeing the ones who do whatever it takes to get there, not letting setbacks or disappointments stand in their way," Forrester says. "Everybody goes through the ups and downs. I had years that I didn't do that great, and other years where I did extremely well. What always impresses me are the athletes who are willing to be persistent, learn from their experience, and step up when it's time to do the hard work. You have to do an extraordinary amount of work to do extraordinary things."

Invigorating At Any Speed
Bill Forrester worries that the younger generation is becoming too sedentary, but he believes he has the best ticket off the couch and away from the computer: swimming.

"The beauty of swimming is that, whatever your speed is, the cardiovascular benefit is huge," Forrester says. "And a 40-minute swim will work muscles that running won't. You're using your arms, your legs, and you're keeping your heart rate up for a sustained period of time. It's also low impact, meaning less stress on the knees and hips."

Forrester says that swimmers can build up their routine at their own pace and still experience benefits.

"Maybe your first time in, it's a struggle to even do a lap," he says. "But next time maybe you're doing two laps. Your muscles get stronger, your cardiovascular improves, and every time, it's invigorating."