Alive And Kicking
Actress Elizabeth Ludlow is a fierce survivor in The Walking Dead and a rising star in Hollywood
Before she ever spoke one line of dialogue, Elizabeth Ludlow discovered the importance of getting the right role at the right time. The actress, who portrays a ruthless survivor in the zombie-filled horror drama series The Walking Dead, had to turn down her first chance to act in a local play as a middle-school student.
"I auditioned for a role in The King and I," Ludlow recalls. "But when I realized I couldn't realistically commit to both the play and to soccer, I chose to honor my previous commitment to my team."
Being a year-round soccer player as she grew up in Savannah didn't smother Ludlow's interest in acting. She moved to Atlanta immediately upon graduating high school. With a minor in Theater from Georgia State University, she got involved with a small troupe of actors doing improv theater.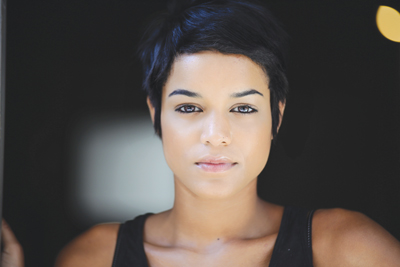 "It just kind of blossomed from there," Ludlow says. "Through this group of actors, I ended up meeting someone who helped me audition for the agency I'm with now in Atlanta. I did everything from extra work to commercials to small guest roles on TV to get to where I am now."
Where she is now is on one of the most popular cable television shows in history. The Walking Dead, in which small groups of survivors try to adapt to a world ridden with zombies, premiered in 2010 and immediately divided audiences into two camps—those that couldn't take more than five minutes of its gritty, relentless intensity and those who absolutely cannot miss an episode for any reason (barring, perhaps, an actual zombie apocalypse).
Ludlow joined the cast for the current season, the show's seventh. She plays Arat, a tough-as-nails member of a group of survivors that are the enemies of many of the show's original main cast. But the dynamics of the show have long abandoned the idea of some characters being good while others are evil.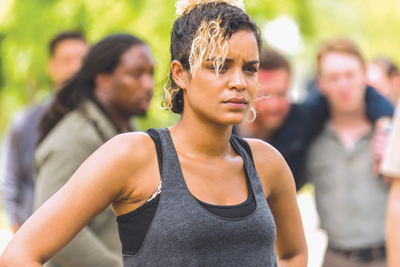 "In my opinion, I don't consider Arat a bad person. She has done what she has had to do to survive, like all of the characters on the show," Ludlow says.
She had actually auditioned for the show 3 or 4 times before landing the role of Arat—again, that elusive match of the right role at the right time.
"The first couple of roles that I auditioned for, I couldn't relate to," she says. "It wasn't clicking for me. With Arat, everything just kind of came together. I felt good about the dialogue and what I was portraying. The strong female role, I was confident with that. I truly believe I booked the role that was best suited for me."
Ludlow also booked a role for the big screen, in no less than the first blockbuster movie of 2017, Guardians of the Galaxy, Vol. 2. And speaking of big screens, that was exactly what Ludlow had to interact with as part of her role in the movie. She filmed her scenes in front of a blue screen so that the film's specials effects could be added later.
"I was acting out some pretty dramatic things that, at that moment, were only in my head," Ludlow says. "It is a challenge to act and draw emotion with something you can't physically see."
As Ludlow's star continues to rise, she plans to make her home in Los Angeles, where she will have more opportunities to meet casting directors, producers, and studio executives face to face. But with her family still in Savannah, she makes at least a few trips home every year.
"I think Savannah has come a long way, even just since I left," Ludlow says. "Every time I come home, I'm surprised by all the progress going on. It's impressive."
A Love Story With Fitness In The Main Role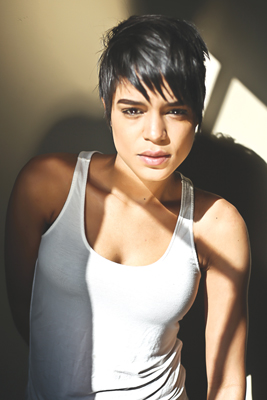 Elizabeth Ludlow's commitment to soccer may have caused her to miss out on her first play, but it also literally started her health consciousness off on the right foot.
"I grew up playing soccer at Blessed Sacrament and St. Vincent's and was also on a club team," Ludlow says. "That was a great start because I got used to running a lot. And I've carried that with me. Now a cardio workout is my big thing. I run through the Atlanta BeltLine and through the parks."
That early love of sports can be a way for children to develop a healthy lifestyle. Seth Shrader, Health Promotion Coordinator and Exercise Physiologist in St. Joseph's/Candler's Wellness Center, says that instilling a love for exercise at a young age is absolutely possible.
"I would say the best way for parents and coaches to help develop this love is through encouragement and making it fun," Shrader says. "Parents should encourage kids to be active and try a variety of sports. Odds are they will find a sport they either excel in or, most importantly, enjoy. If the kids are having fun, they are more likely to work hard and grow as an athlete. Also, coaches should try not to use running, push-ups, or sit-ups as a punishment during practice. While it has its place and time, too much could make a child hate exercise. If the child sees exercise as something that can be fun, they will stick with it."
Ludlow has stuck with running, despite the fact that television and film productions often have a grueling schedule. For the other side of the health equation—nutrition—she credits her father, who is a physician and avid marathon runner.
"My father helped me build the foundation for eating healthy, and soccer built my foundation for exercise," she says. "I ran so much it just became second nature to me. Now, I just enjoy going out and having a run."
---
Photo of Elizabeth Ludlow as Arat in The Walking Dead by Gene Page, courtesy of AMC. Other photos courtesy of LRM Lens.