A Thousand Horses
There's more than a little Savannah in one of Southern rock's hottest new acts
Is it country or is it rock n' roll?
The answer is yes. Add some blues and soul with some distinct Southern flavor and you have A Thousand Horses. One of the most exciting new bands to come out of Nashville, A Thousand Horses mixes country and rock into a sound that echoes bands like the Black Crowes but which they have tirelessly crafted into a style all their own.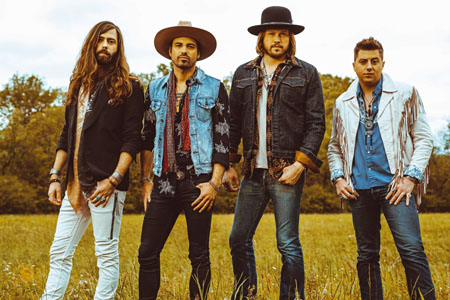 "We want our albums to be more than a collection of good songs," says bassist Graham Deloach, speaking to us in between stops on tour, where the band is opening for Kid Rock. "We want there to be a common thread."
Raised On The Classics
The common thread of rock, country, pop, and soul runs back to Deloach's musical upbringing in Savannah, GA. Like many kids in the '90s he enjoyed shows like Total Request Live on MTV, but also started listening to his older brother's classic rock albums—bands like Led Zeppelin, Lynyrd Skynyrd, and Pink Floyd. Deloach also took notice when his brother bought a guitar.
"You always think your older brother is cool and I wanted to do what he did," Deloach says. He started playing guitar and learning from his brother's albums. From then on, he never pictured doing anything other than music.
"That was it for me," Deloach, now 29, says. "I feel grateful that I didn't really have to choose a path. I felt like it chose me. I would do anything to figure out how to make it possible."
From Savannah To Nashville To #1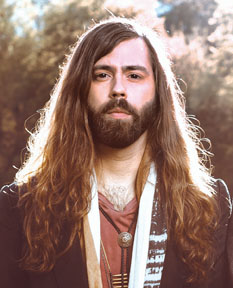 Deloach found kindred spirits in his first cousin, Bill Satcher, and his friend Michael Hobby, when he would travel up to South Carolina in the summer. The three of them hung out, played music, and dreamed of being in a band together. When Satcher and Hobby made the move to Nashville, Deloach was ready to join them—he just had to finish his senior year at Memorial Day School.
"I graduated and moved on June 1," Deloach says with a laugh. Soon after, Zach Brown joined the group and A Thousand Horses was born. Hobby sings lead, Satcher and Brown play guitar. All four members take part in writing songs, a process which Deloach says is pretty non-stop.
"We take the craft of songwriting very seriously," he says, and the charts reflected that commitment with the release of the single, "Smoke," off of their 2015 album Southernality. The song opened at No. 28 on the Country Aircheck radio chart, setting a record for the highest debut by a new act. "Smoke" eventually went to No. 1 on the Billboard Country Airplay chart, while the album hit the Top 3 on Billboard's Country Albums chart.
"That was kind of unreal," Deloach says. "For me, the whole point of music is to make people feel emotion. So when you have people respond positively to something you've created, that's the dream. You spend a lot of years trying for that, and when it happens it's gratifying. And hard to believe, in a good way."
Rockin' The Country
The praise for A Thousand Horses from both fans and music critics has grown as the group released more music. The band was dubbed "country's coolest band" by Rolling Stone and they were nominated for the New Vocal Duo or Group Award at the 52nd Annual Academy of Country Music Awards last year. They have headlined sold-out shows in both the U.S. and the U.K.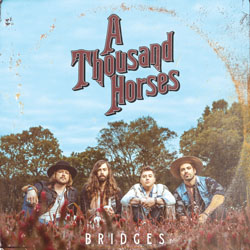 Their success has been hard won, with the band practically living out of a van on tour for years and staying together after they lost their first record deal. But Deloach says those harder days only reinforced each member's dedication to the band and their unique chemistry.
"Bands often break up when times get tough," Deloach says. "But for us, it's never a question of what's going to happen. It's about figuring out how to keep going, not just in music but in this band. We're very, very committed."
---
Sleep, Diet, & Rock n' Roll
Younger people don't seem to think of their health that much. Since a younger body generally bounces back more quickly after being up all night, or indulging in tasty junk food, or even smoking and drinking, the long-term health consequences may not seem that critical. But if the habits of the guys in A Thousand Horses are any indication, not taking care of yourself could be becoming old-fashioned.
"We are always fighting a battle of eating healthy, sleeping, and finding time to exercise," bassist Graham Deloach says. "Especially on the road. After being onstage, it can be hard to wind down to go to sleep, but you have to. You have to take care of your body."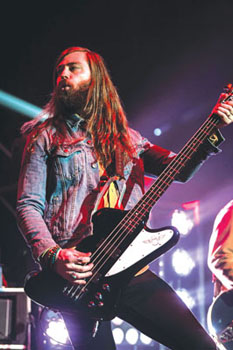 Being the son of E. Daniel Deloach, MD, a Savannah physician, Graham only needed to make a quick phone call to get an answer to a health question. But he and his bandmates also learned by experience.
"Night after night, walking around the stage with this heavy instrument strapped across your shoulder for hours, you'd almost be sore the next day," Deloach says. "It became a kind of sink-or-swim situation. If you decided to eat whatever you wanted, not sleep, not exercise, then you're on a downward spiral. Or you can choose to take care of yourself in all facets."
Bigger tours, like the one the band is on now with Kid Rock, can actually help in getting the right nutrition on the road.
"They'll have a buffet that has healthy options, fruits and vegetables," Deloach says. "But you have to take those options. You have to make yourself hit the juice bar, find a local gym if you can, or even just take a good walk around the city you're in."
---
Band and album cover photos courtesy of Ford Fairchild. Live photos courtesy of Keith Griner. Learn more about the band on their website.