Oncology Nurses In Infusion Services Have A Unique Role In Treating Cancer Patients
Beverly Youmans, BSN RN OCN
Oncology Nurse Manager, Infusion Services, Nancy N. and J.C. Lewis Cancer & Research Pavilion
Smart Living: Your department, Infusion Services, treats cancer patients in the Lewis Cancer & Research Pavilion. What kind of treatment do your patients receive?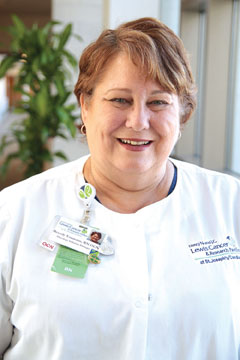 Beverly Youmans: Our care of oncology patients includes chemotherapy, immunotherapy, hormone therapy and supportive treatments such as blood transfusion, growth factors, hydration and assessment using evidence-based practice and protocols. We monitor patients for side effects or toxicities from treatment and provide interventions to manage them. We also educate patients and caregivers on treatment, symptom management, resources, and follow-up care. We work with the oncology team including patient navigators, social workers, dieticians, the oncologist and a financial counselor to meet the patient's physical and psychosocial needs and provide support.
SL: So clearly there is much more than administering chemotherapy to patients, although that is a primary part of treatment. Is this why having national oncology certification, or an OCN, is expected of nurses working in your department?
BY: Yes, becoming an OCN is strongly encouraged, and due to the rapid advancements and changes in treatment, it is essential to participate in ongoing education. Oncology nurses who administer chemotherapy must complete an Oncology Nursing Society Chemotherapy & Biotherapy Provider Course after having experience in oncology that meets the course requirements. Nurses must also complete an initial chemotherapy competency, as well as annual competency, and ongoing training.
SL: What about the emotions involved in trying to beat cancer? Can your nurses help with that side of treatment too?
BY: Absolutely. Oncology nurses have a unique opportunity to touch patients, caregivers, and families in an often-challenging life journey, starting with diagnosis and treatment through survivorship and end-of-life. Patients are seen for prolonged spans of time, sometimes years, and a special bond develops. The emotional support that can be provided is fulfilling to the nurse and patient, even if difficult for both at times. Some days are difficult, and the nurse can be the difference in making a day better by providing support, a laugh, and excellent care. Our goal is always to make the journey a better experience for all, to celebrate the victories, and share a hug when it is needed.