Top Dog
K-9 Dooly is one of the highest-skilled police dogs in the nation, and he uses those skills to protect us
When Corporal Benjamin Ferrero joined the Savannah Police Department nearly eight years ago, he didn't just become an officer. He also became a human-sized chew toy.
Ferrero wanted to be part of Savannah's K-9 unit.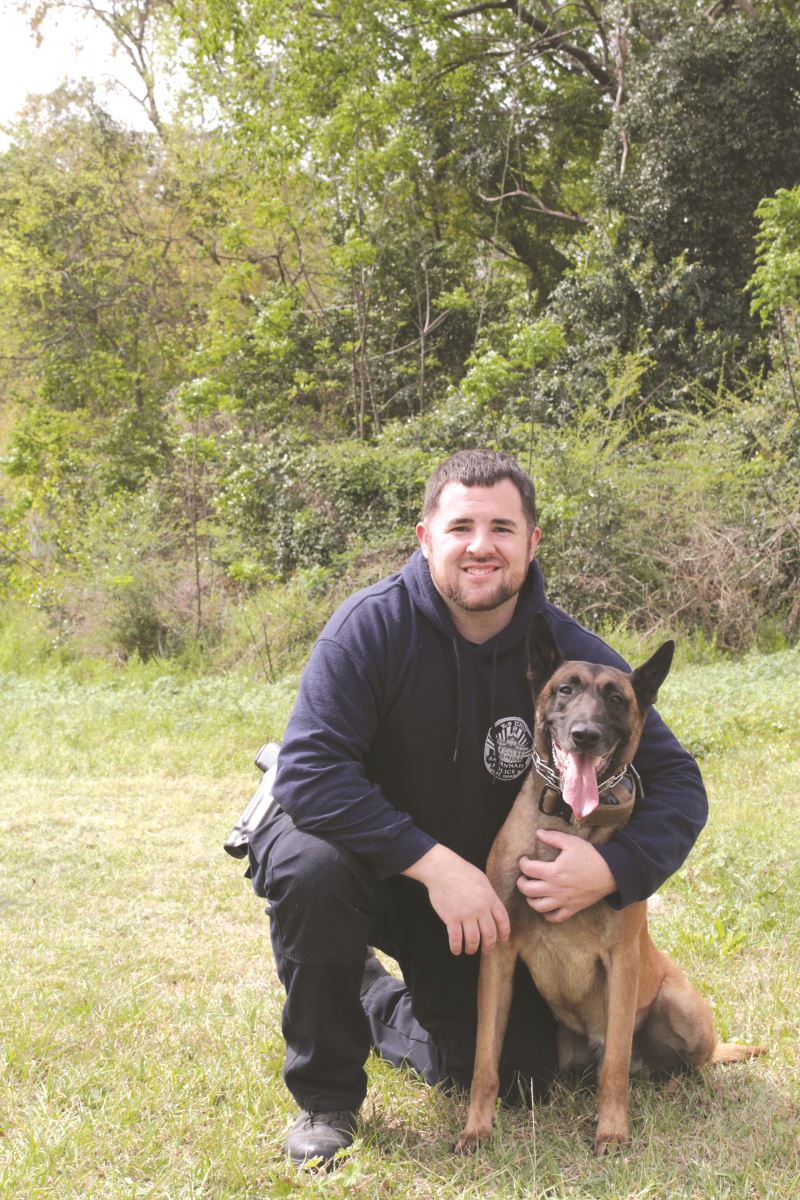 "I did a whole lot of volunteering for training," Ferrero recalls. "If you want to make K-9, you have to go out and do your time. You volunteer to be the decoy, get chased, get bit, all that fun stuff."
Cpl. Ferrero thought K-9 was the place he could do the most good, and when he was matched with Dooly he knew he couldn't get a better partner.
"I am one of the luckiest people to have this dog," he says. "He's my partner and my everyday companion, but he is also an amazing tool in police work."
Dynamic Duo
The K-9 and officer duo have been together for a little more than three years. Like the rest of the unit, Cpl. Ferrero and Dooly work together to track and apprehend criminals, detect illegal narcotics, and keep the streets of Savannah safe from crime. It's dangerous work for both partners.
"What we ask these dogs to do is the most you can ask any dog to do," Ferrero says. "They search buildings ahead of us. They track. Apprehension is the hardest. It takes a different mindset, a special dog to do that bite work."
Police dogs in the U.S are generally German Shepherds, Belgian Malinois or Dutch Shepherds. Dooly is a Belgian Malinois.
"Everyone confuses Dooly for a German Shepherd. It really hurts his feelings," Ferrero says with a grin.
The duo spends much of their free time in training, which is fun, but is also in service of serious business.
"If my dog is not obedient on the street, it could get him or me killed," Ferrero says. "Dooly has an On/Off switch. I can bring him out of the car, hand him his toy, and he'll come play with you. I take him out with no toy, he's only looking for the bad guy."
Dooly and the other K-9 dogs are known as "force multipliers."
"There are some people who always run or always fight or try to hurt police officers," Ferrero says. "I can't tell you how many times that just the mere presence of this dog has made those people stop in their tracks."
National Police Dog Trials
When Cpl. Ferrero calls Dooly the "best dog in the region," it's not just the words of a proud partner. Dooly actually placed first in a regional United States Police Canine Association certification trial last year. Teams were judged on their agility, apprehension skills, article and box search and obedience.
Their regional win made them the first K-9 team from Savannah to go to the nationals, competing among the best in the country. Cpl. Ferrero says they were a bit too new to the experience and did not win the Top Patrol Dog title there, but are anxious to return. The expense of additional training and traveling to the national trials was offset with help from the Savannah Police Foundation, the GA Police K9 Foundation and the Protecting K-9 Heroes organization. Cpl. Ferrero says that the Savannah community has always been very helpful to the unit as well.
"Without the community's support, this unit wouldn't be as strong as it is," he says. "Even the people who just drop off dog toys are a great support."
He adds with a laugh, "Of course some of the toys claim to be indestructible, but I say give them to a Belgian Malinois before calling them that."
Keeping Up With Pure Muscle
Cpl. Ferrero says he got a "reality check" about his own health and fitness when he started working with Dooly.
"He might only be 65 pounds, but it's pure muscle," Ferrero says. "And he wants to work at full throttle. We ran for a good half-mile just the other night chasing a suspect into the woods."
Cpl. Ferrero tries to keep up with his own exercise plan, but says the best cardio workouts usually come from keeping up with Dooly.
"When I'm attached to the leash, I don't have any choice about running," Ferrero says. "It's either run or get dragged to his intended target."
At the end of the day, though, there is always time for play.
"I can't turn him from what we need him to be into a house pet, but he understands the difference between work and play and meeting people," Ferrero says. "He's just a great dog with an amazing personality. And whether we're at work or at home, he's my best friend."
---
Dogs have helped people in various professions for centuries, and not surprisingly, there is a place for them in health care. Learn more about therapy dogs here.
---