Outpatient Surgery Services Can Be Closer To Home In Both Distance And Time
Alison White, RN, BSN, CAPA
Clinical Nurse Manager, Pooler Campus Outpatient Surgery
Smart Living: Several surgical procedures can be performed on an outpatient basis, meaning patients do not need to be admitted to the hospital and can go home the same day. For St. Joseph's/Candler, that means some procedures are now offered to residents of Pooler and its neighboring areas at the new Pooler campus. What are some of those being offered?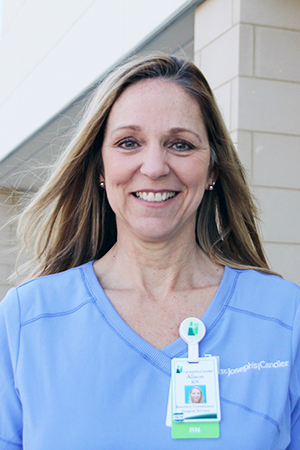 Alison White: Outpatient procedures are generally those that take less than four hours and have a quick recovery time. They are designed for otherwise healthy patients. The physician determines a patient's candidacy for outpatient, but we also have very experienced nurses here to assess and screen patients for the utmost safety.
Procedures done at the Pooler campus include orthopedic procedures like knee and shoulder arthroscopies, hand and elbow procedures, pediatric and adult ENT procedures such as tonsillectomy and adenoidectomy, as well as myringotomy with tube placements. Also, some general surgery procedures to treat gall bladders and hernias are offered here, as well as some podiatry and small plastic surgery cases. Our surgical center has two fully-equipped operating rooms with the latest technology, including the da Vinci robotic surgical system.
We also have two endoscopy suites where we perform colonoscopies and EGD screenings. These are routine gastrointestinal procedures that people from Pooler used to have to drive into Savannah to receive.
SL: What kind of procedures—or patients—still require a traditional hospital stay?
AW: Any longer procedure, or those with a long recovery time in which the patient needs to be monitored, will have to be done on an inpatient basis. It also depends on the patient's medical condition and medical history or past problems with anesthesia. Things like a total knee or total hip replacement, cardiac catheterizations, and most OB procedures are still inpatient procedures that will require a stay at either St. Joseph's Hospital or Candler Hospital.
My big thing for our patients is to have the best possible surgical experience they can have in a safe environment. If you are a candidate for an outpatient procedure, you may only be with us a short time, but you will always be treated like number one. And if you live in Pooler or even somewhere like Statesboro, you will be home even faster, and with less traffic. I'm from Pooler, and it is a very exciting time in my hometown.