Paws In Therapy
Patients can benefit from a calming or uplifting interaction with a therapy dog
When new, young patients come to Savannah Pediatric ENT, which is part of Georgia Ear, Nose & Throat Specialists in Savannah, they might be nervous about what kind of testing they have to do or about meeting a new doctor.
That is, until they see Vegas.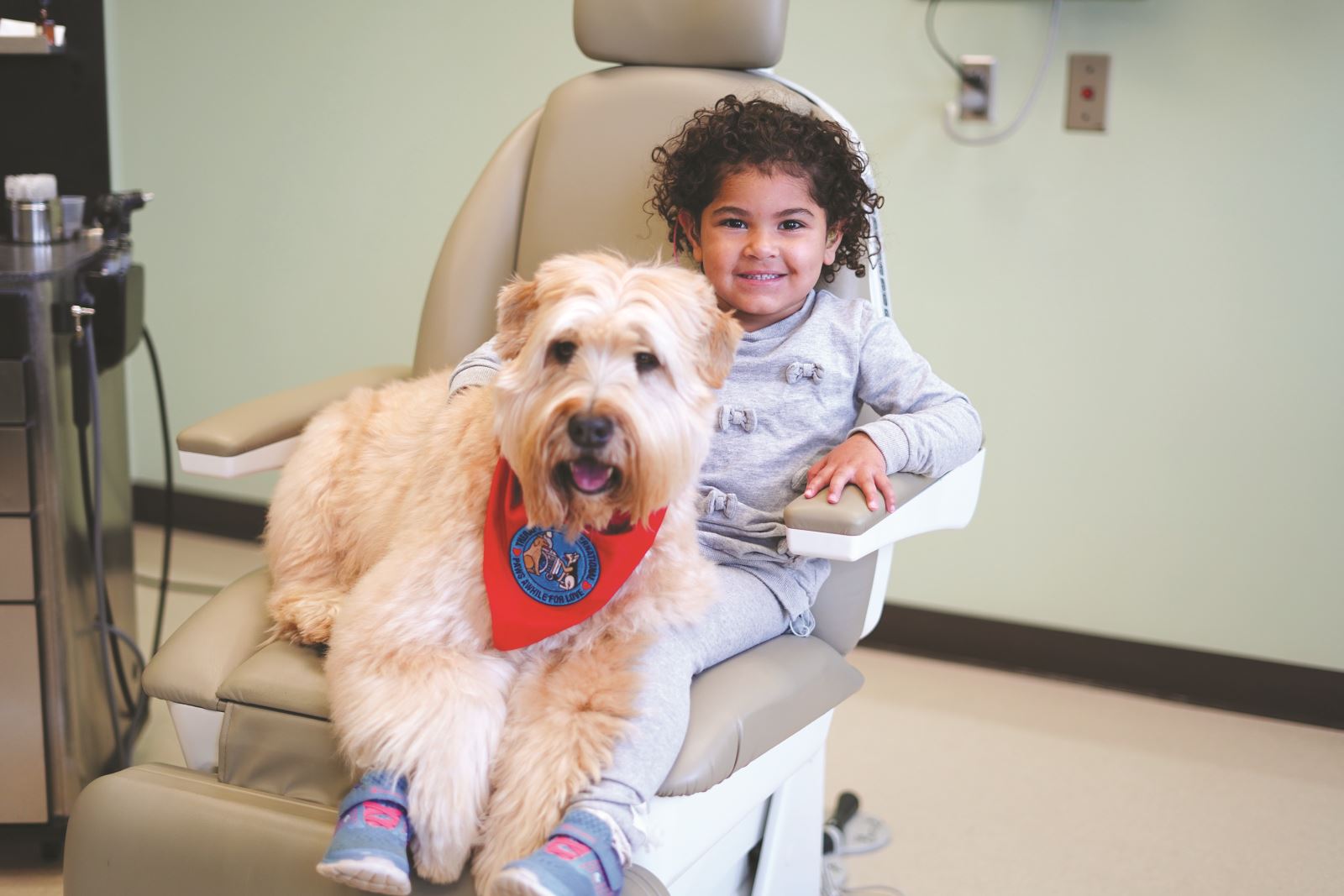 Vegas is a Soft Coated Wheaten Terrier that actually belongs to Dr. Michael Poole, a pediatric otolaryngologist. Dr. Poole and his colleague Dr. Stephanie Ambrose are the region's only fellowship-trained pediatric ENT specialists, and they only treat kids at Savannah Pediatric ENT. But when Vegas visits a couple of times a week, it's not just the kids who want to see him.
"It is often hard to tell whether it is the child or the parent who most wants to see Vegas," Dr. Poole says. "Fortunately, Vegas wants to see and interact with kids and adults as much as they do with him. Children are often so excited about him that they forget about any anxieties they may have had."
Vegas himself is unique but his purpose with patients is not. Across the country, certified therapy dogs visit schools, daycares, group homes, and hospitals, bringing friendliness and warmth to an otherwise uncomfortable situation.
Not too far from where Vegas calms young ENT patients, Chip often comes to greet physical and occupational therapy patients at Candler Hospital. Other days he does the same at St. Joseph's Hospital. His owner, Joe Newman, only presents Chip to those who say they want a visit from him. The majority of people do.
"They enjoy petting Chip and sometimes even invite him up onto their bed," Newman says. "He has a positive effect in taking the patient out of the drab sameness of a hospital routine."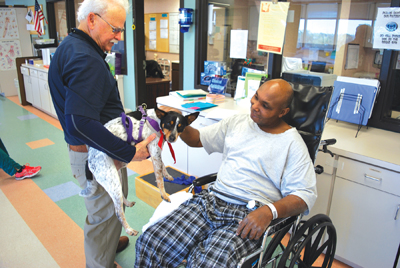 Newman notes that a therapy dog is not the same thing as a service dog. Service dogs are specifically trained to perform tasks to assist their handlers with a disability, and they are not meant to be petted or visited by others. Therapy dogs are also sometimes confused with ESAs, or Emotional Support Animals. ESAs are responsible for providing therapy for a specific person suffering from psychological issues such as phobias or PTSD, and must be prescribed by a mental health professional. But the fact that there are three distinct types of dogs that help people in different ways speaks volumes about the intelligence, dedication, and generosity of spirit that these four-legged friends inhabit. And that positive effect extends to health care professionals as well.
"Chip is a happy and sweet little fella who brings smiles and joy to staff and patients alike," says Katie Tajirian, a physical therapist at Candler Hospital. "He is always a welcome visitor."