Ask A Magnet Nurse
Dana Coleman BSN, RN, OCN
Clinical Special Services Manager, Oncology Nurse Navigator & Melanographer
Nancy N. & J.C. Lewis Cancer & Research Pavilion at St. Joseph's/Candler
"Nurse Navigators Are A Deeply Trusted Resource In Cancer Treatment"
Smart Living: The concept of a nurse navigator is new enough that not everyone may be familiar with what it means, but it has proven to be an essential resource for patients facing an overwhelming journey. Do newly-diagnosed patients now expect to have a nurse navigator?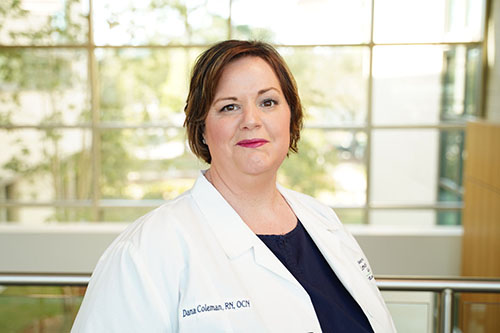 Dana Coleman: Some do and some don't. I've met patients who have never been touch by cancer in their lives. I even recently met a 50-year-old who had never received hospital care before. Others, when they have been diagnosed, will talk to someone they know who has been through it, and that person will say that you've got to have a nurse navigator—don't start this journey without one.
SL: The name suggests guidance, but what exactly does a nurse navigator do that makes them so important to the continuum of care?
DC: Treating and surviving cancer involves so many points of care—different types of treatment like chemotherapy and radiation in different offices, seeing more than one physician and specialty services such as dietitians or lymphedema specialists, dealing with insurance and billing, and so on. There are many appointments to keep and a lot of information to absorb. We are specially trained and certified to fit all of these pieces of the puzzle into a treatment plan and to keep them together as seamlessly as possible, helping patients and caregivers be successful in completing their cancer journey.
Every patient is different, but here is just one recent example: we had a patient with esophageal cancer. There were multiple physicians involved in his care including a cardiothoracic surgeon, a radiation oncologist, and a medical oncologist. Once his radiation and chemotherapy was done, he needed surgery within a month of treatment. We had to make sure he was nutritionally sound and healthy enough to make that surgery. It took the whole team, including a dietitian and a social worker, and multiple levels of communication to help him through all of these moving parts of treatment. And he and his wife put their trust in me to make sure these disciplines worked successfully together.
SL: The new campus in Bluffton is focused on cancer treatment in its first phase. Will South Carolina patients be able to have their own nurse navigator?
DC: Yes, and just as this new campus puts all of our South Carolina cancer services under one roof, so will our nurse navigator be present to take the multiple resources for patients that already exist in Bluffton and Hilton Head and tie them all together. She will be able to follow her patients just like we do here in Savannah, and take the time to develop that relationship of trust. We are here to build bridges and remove barriers every step of the way, because we know that is the best path to healing and survivorship.