Bone Deep
Specialized imaging technology can screen for osteoporosis, a common but serious bone disease
You may think that once you are fully grown, your skeleton stops changing. In fact, your bones continuously remodel themselves, replacing old bone cells with new ones. But as people age, less new bone is created. For women, the process accelerates during menopause, when the estrogen that helps maintain strong bone density is produced less.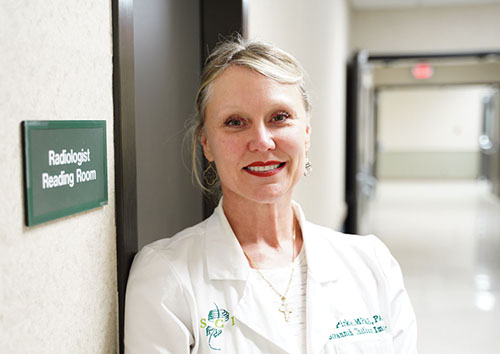 But low bone density—in its first stages called osteopenia—can progress into osteoporosis in both women and men. It is actually quite common, affecting about 54 million Americans. Osteoporotic bones are weaker and more likely to be fractured, which can then lead to other problems through the patient's lack of mobility.
Low bone density is not necessarily something that people can feel. So how is it detected? With a simple but special kind of X-ray—the DEXA scan.
"DEXA stands for dual-energy X-ray absorptiometry," explains RaDonna Pirkle, a Certified Clinical Densitometrist at St. Joseph's/Candler. "There are two X-ray cameras, one for soft tissue and one for bone. Through this composite imaging, the scan can calculate the bone mineral density of the patient's lumbar spine and hips."
As a densitometrist, Pirkle uses the data from the DEXA scan to help determine a patient's risk of fractures.
"One in three women over 50 experience osteoporotic fractures," Pirkle says. "We want to protect patients from that risk by discovering low bone density early."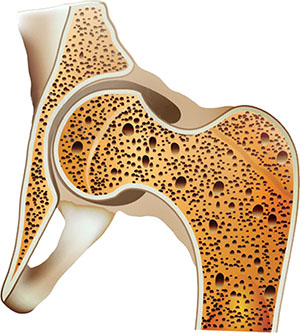 Though most DEXA scans are done on post-menopausal women, there are circumstances when men and young children may need one. Certain medications, including steroids and anti-depressants, can affect bone mineral density. Cancer treatment such as chemotherapy, radiation and certain drugs can also increase your risk.
"Osteoporosis shouldn't be thought of as a women's disease," Pirkle says. "One out of every five men over 70 will have an osteoporotic fracture. And in men, the mortality rate after a fracture is higher than in women."
The DEXA scan requires a physician's referral and is typically repeated every two years. So ladies, if you are post-menopausal, and guys, if you're over 50, ask your doctor about your bone mineral density. Of course, any one at any age who is experiencing bone or hip pain should also talk with their physician.
"I'll be honest, the X-ray table isn't super soft or comfy," Pirkle says. "But the DEXA scan is quick, safe and painless. And what we learn from these scans is so important to helping you live a healthy and independent life."
---
For your convenience, a DEXA scan is available in practices across the region: the Telfair Pavilion at Candler Hospital, Telfair Breast Imaging Center – Eisenhower, SJ/C Imaging Center – Pooler and SJ/C Imaging Center – Bluffton. Please note: St. Joseph's/Candler strongly suggests that patients receive their screenings in the same office each time. This is to ensure consistency as past readings of your bone mineral density are compared to the most recent scan.
To learn more about how your scan results are scored and compared, read our Living Smart blog here.