First Place
Innovation in the patient experience requires big new ideas and attention to small details
Do you have a favorite chair in your house?
Maybe it supports your back a certain way, or the cushions are just right, or it faces your favorite view of the outside. Whatever the reason, that's the spot you choose because it feels better to be there.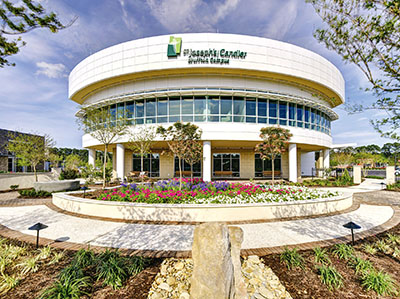 That comforting feeling played a part in the design and development of the new St. Joseph's/Candler Bluffton Campus at Buckwalter Place. The most advanced technology and latest clinical research? That was a given. Having all of the services in one place? Essential. But as providers look to the future of healthcare, the focus always turns back to the patient.
Expanded Services And Access
Phase I of the Bluffton campus is centered in oncology, the treatment of cancer. The campus provides radiation oncology, medical oncology, infusion services, and all other aspects of care. While St. Joseph's/Candler's Nancy N. and J.C. Lewis Cancer & Research Pavilion has provided these services in Bluffton and Hilton Head for many years, the new campus has everything all under one roof. The first place patients come to is the only place they need.
"This campus is tailored around the patient experience," says Pam Proman, Director of Operations and Strategic Initiatives for the Lewis Cancer & Research Pavilion. "Along with the standard oncology services, we are providing supportive services as well. We have a patient navigator, financial navigator, social workers and dietitians, and more. We designed this campus to help patients through their whole continuum of care—their cancer journey."
The new campus was designed to help you feel at ease from the moment you arrive, so every patient is greeted by a Guest Service Agent as they walk through the door. The Guest Service Agents assist patients and visitors alike with wheelchairs, directions, or any other general questions you may have. They are your connection to the services and convenience that was integral to the campus design.
One example of that convenience is the new campus' PET/CT machine. To avoid asking patients to make an extra trip to Savannah, where the Lewis Cancer & Research Pavilion is based, St. Joseph's/Candler invested in a PET/CT with the capacity to complete a radiation oncology simulation procedure. This is part of a patient's treatment planning but was only offered in Savannah until now.
And, yes, designers also thought about the chairs.
Details Of Innovation
"Early on, we invited a patient focus group to try out the chairs for chemotherapy," Proman recalls. "With their feedback, we made sure to consider all of the details."
As those details emerged, it created a spirit of innovation. The new chairs aren't just comfortable—they are heated, can easily be adjusted electronically (including an adjustable pillow), and include a space for your belongings which can be moved to either your left or right side for easy access. Previously, patients may have held their purses or bags in their laps for hours. Basically, a much-needed technological makeover was made possible from a patient-centered approach.
The infusion bays were designed for individual comfort as well, with most bays allowing for a pleasant, social atmosphere in which to pass the time. There are also some private bays available for patients who need that accommodation. Electronic blinds in each infusion bay can be adjusted to provide the right balance of light and shade for your comfort. You can even make it dark enough to sleep. The choice is yours.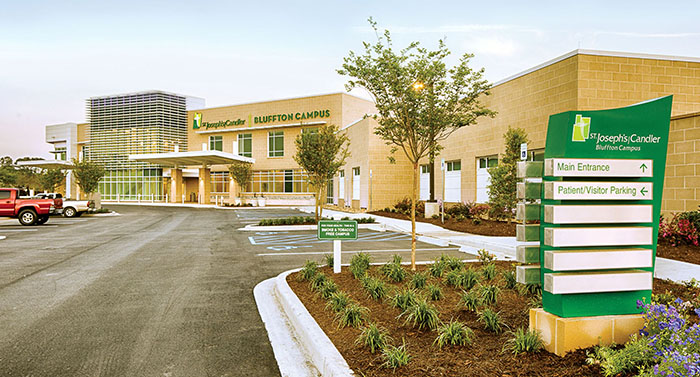 Serenity, Prayer
Creating a space that fosters collaboration among physicians and other members of multi-disciplinary teams, while also providing convenience for the patient, is an immense design challenge for new facilities. But those technical issues are only the beginning when it comes to ensuring a pleasant, patient-integrated experience.
"Something special about the Bluffton campus is the large serenity garden and the water features," Proman says. "Patients and their loved ones can go outside and enjoy fresh air. They can sit and relax."
For patients that may not be able to go outside, the campus also has an indoor water feature and floor-to-ceiling windows that overlook the serenity garden.
There is also a chapel and a daily prayer provided for patients.
"A relaxing environment is part of the supportive services that an innovative, comprehensive cancer center must have," Proman says. "A center that revolves around the patient."
Phase II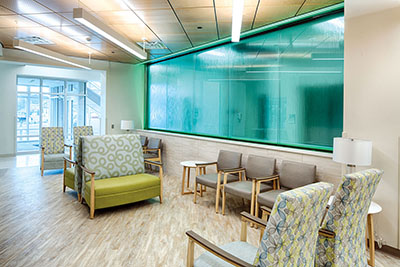 St. Joseph's/Candler has provided medical services in Bluffton and Hilton Head for more than 16 years. Many of these services are spread out across the region, but once Phase II of the Bluffton campus begins, the many will steadily become one.
"Buckwalter Place will become a hub for a multitude of services," explains Brad Trower, Vice President of Development for St. Joseph's/Candler. "We will expand our primary care services, specialty clinic services, and more. At the same time, the oncology services that we offer now in Phase I will continue to grow so that everyone has access to them."
The implementation of Phase II will demand the same patient-centered forethought as Phase I.
"The architectural and construction teams are dedicated to creating a layout that continues that concierge-level of experience for patients, but one that also helps all of these different physicians be as efficient as they can be, to see more patients," Trower says. "When a building has multiple purposes, feedback from physicians as well as patients can help make a new facility a great place for everyone."
Buckwalter Place is already a big center of activity in Bluffton, one of the fastest growing communities in the nation.
"Buckwalter is such a great development," Trower says. "People who come here enjoy convenient access to what they want and need. This campus is giving our oncology services, and later even more services, that same level of access."