Living The Golf Life
The popular pastime has actually shown to have notable health benefits, including longevity
If you feel your spouse plays golf way too much, there is now a bright side: it could help him or her stick around longer.
A recent study by researchers at the Zeenat Qureshi Stroke Institute found that playing golf regularly could lower a senior adult's risk of premature death. Their findings echo a 2016 study from Edinburgh University that said golf players could add up to five years to their life when compared to non-golfers.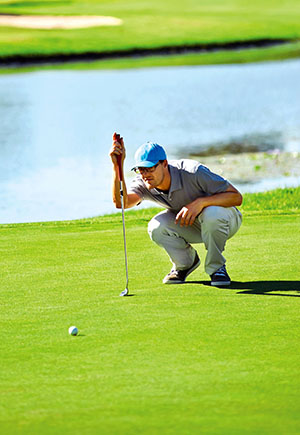 What's the secret? Michael Mahnken, an exercise physiologist in St. Joseph's/Candler's Wellness Center, says it's an effective mix of various activities. A game of golf involves:
Light walking, even if you use a cart between holes
Carrying clubs and using motor skills to play
Social interaction
Being outside, under the sun and in a pleasant green space
The fun of competition, which helps make golf not feel like exercise
Though each of these factors may not seem significant on their own, doing them together—and doing it regularly because you enjoy so much—has an impact. Your golf habit may be one you don't want to break.
What about the rest of us?
Surely you don't hate golf—that's unthinkable! But for the sake of argument, let's say you want those positive results without having to tee up. Mahnken says your options are plentiful.
You can call a friend (social interaction) and invite them for a stroll in the park (light walking, green space). Or, if you want something a little more rigorous, perhaps a game of pickleball or tennis (motor skills, competitive fun). Return to it more than once a week and you may see a cardiovascular improvement, a better mood, and lower cholesterol levels.
"You can also join a place like the Wellness Center," Mahnken says. "You can make friends here easily, and there are group fitness classes and different types of workouts and exercise machines that can be tailored to your level."
It all comes back to being active, even as you get older.
"Tap into your competitive nature, even if it's just a competition with your former self," Mahnken says. "And try to discover what's fun for you. If you're having fun, you'll do it over and over, and that's when you start to see and feel those healthy benefits."