The Game To Win
Through dedication and perseverance, Savannah's Tim O'Neal has made his own way in professional golf
Like many pro golfers, Tim O'Neal had a club in his hand by the time he was five years old. But while his parents Eva and James—both great golfers themselves—were his biggest supporters, they also were realists.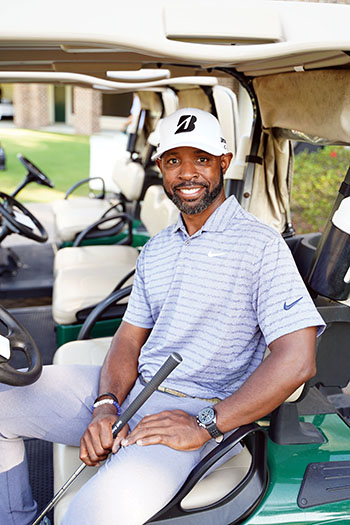 "My dad didn't want me on the full-size golf course until I could actually play," O'Neal recalls with a laugh. "That wasn't until I was about 10 years old."
O'Neal played par 3 holes at the now-closed Bonaventure golf course in Thunderbolt, and then played junior golf at Bacon Park. Eventually he started playing everywhere in the area.
"I started taking it seriously when I was a sophomore at Johnson High," O'Neal says. "I thought maybe I could get a scholarship."
O'Neal went to Jackson State University in Mississippi and won 16 college tournaments during his time there. In 1997, he won the Georgia Amateur Championship.
"That was a good field, a lot of good players," O'Neal recalls. "When you win a tournament like that, it definitely helps. I knew I had a shot at turning professional."
Learning Patience One Stroke At A Time
The road to a pro career would not be easy for O'Neal. He missed earning his PGA Tour card in 2001 and 2004—both times by a single stroke. He had some sponsorship help early in his career, including from actor Will Smith, but for most of the 20 years that he has played professionally, O'Neal has done it without financial backing. But he made it work, playing several tours, such as the PGA Tour Latinoamérica and the Korn Ferry Tour, and traveling the world while also raising two children back home in Savannah.
"I've always had the game to win tournaments," O'Neal says. "But I wasn't as consistent as I needed to be at the right time. As I've gotten older, I've become more patient with my game and not trying to force things so much."
O'Neal's patience and perseverance paid off, and remarkably his biggest professional wins came after he turned 40. He won three tournaments on the PGA Tour Latinoamérica and won the Georgia Open in 2018.
"The Georgia Open was a tournament that I've always wanted to win, especially after winning the Georgia Amateur," O'Neal says. "I had finished second in the Georgia Open twice, and third once, so that one was hard for me to get, but it was good that I got it close to home on a course that I really like."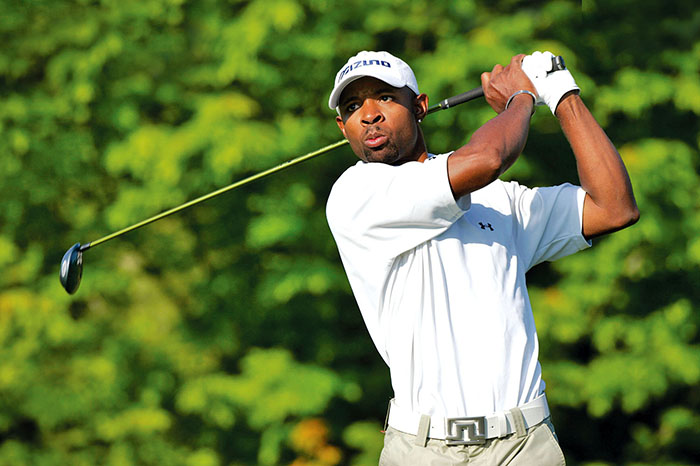 Better With Age
O'Neal says that it hasn't felt like it's been 20 years since he turned pro, but he does believe he's gotten better as he's gotten older.
"Something that comes with maturity is being able to think my way around a course better," he says. "I'm more consistent."
Now that he is paired with younger players, another thing that O'Neal has to think about is his diet and exercise regimen.
"If you aren't doing something in the gym, you're going to be losing to the field," O'Neal says. "So I get there pretty often. Sometimes I will go on runs with my daughter too."
O'Neal says he likes Krispy Kreme as much as any other Southerner but that the grind of playing pro golf week in and week out will not forgive much junk food.
"You can't just eat anything you want," he says. "Everything in moderation. I don't have a strict diet, but I'm a picky eater anyway. So I watch what I eat."
Great Determination
As important as these health considerations are, when it comes to sharing advice to players just starting out, O'Neal says that what is needed runs much deeper.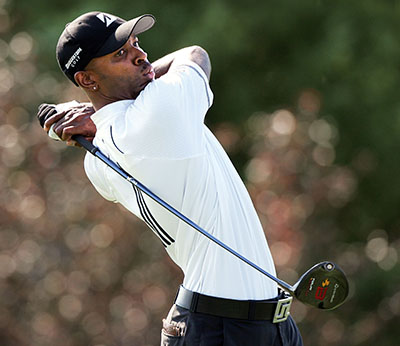 "Golf is hard," he says. "You have to be dedicated to what you're doing. It's not something that you can do halfway. You may be good, but so are all of the people you are competing against. Try not to have too many distractions, and put everything that you have into it."
That dedication is something that other players have come to know about Tim O'Neal. He made his seventh-career PGA Tour start at the 2019 Genesis Open as the recipient of the Charlie Sifford Memorial Exemption. This exemption is given annually to a golfer representing a minority background and to continue the advancement of diversity in golf. In a statement announcing O'Neal's participation, Tiger Woods noted that O'Neal "has shown great determination in his professional career."
O'Neal also recently won the Advocates Pro Golf Association tournament at the Torrey Pines North Course this year. It was a five-stroke victory for O'Neal, who will turn 48 this year.
"You can only get out of golf what you put into it," he says. "So I've never given up on this dream. I've been doing this for a while, and I'm sticking to it."
---
The Long Game
You may not be a pro like Tim O'Neal, but playing a lot of golf has benefits for you too. It could even help with longevity — learn more here.
Photo credit: Middle and bottom photo: Courtesy of PGA TOUR