Writing With Love
Harrison Scott Key's hilariously true stories won him an award, but how did it go over with his family?
It's a complicated question that has nagged even the most courageous writers of memoir—how do you reach a truth that resonates because of its raw emotion and honesty, without hurting the feelings of the people you are writing about?
"You just have to wait until everybody's dead," says Harrison Scott Key.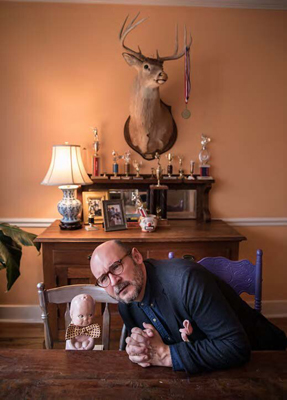 That dry, blunt outlook is part of what earned Key the Thurber Prize for American Humor in 2016. But it also put some of his most important relationships at risk.
"It's inevitable that you will break some hearts and hurt some feelings," he says. "So you have to think about that."
Key believes, however, that there is an appropriate time not to think about it. His advice to his writing students at the Savannah College of Art and Design is to get it all out first.
"Just write it. Nobody's reading it right now," advises Key. "Say all of the ugly, nasty, revealing secrets and thoughts and feelings you have. They'll probably feel pretty ugly when you see them on the page."
It is in the editing process that you can soften some passages, add humor, use beautiful language, and focus on the deep feeling you want to convey rather than the graphic details.
"Write with love, not with spite," Key says. "There are some people who may still be angry with you. While you're editing, you'll have to decide who those people should be."
For his second memoir, Congratulations, Who Are You Again?, Key wrote about how the writing and publishing of his first memoir affected his family. One chapter focused on the relationship between Key and his wife. He showed it to her before he began editing.
"There were passages that were hard for her to read," he says. "But sharing those with her would always make it better."
That's the other factor that newer writers may not realize. Writing a great memoir takes more than just spilling out naked facts about yourself or your loved ones. Along with the courage to be honest, writers should also strive to reveal the deeper truths in a skillful and aesthetically satisfying way.
"Some writers think that if they don't just say the unvarnished truth, it will make their book worse," Key says. "That's not true. Softening something while you're editing can often make a passage better. It will make it a kinder, more real book."
---
Want a taste of Harrison Scott Key's writing? Or are you wondering how he got that historically-significant last name? Go here.

Key participated in TEDxSavannah, a local, independent event that utilizes the TED conference format, in 2019 . Hear his thoughts on the American Dream here.
---
Photo courtesy of Chia Chong.