Comfort Zone
A search for the ideal pajamas inspired two new moms to create their own
To care and protect our infant children, we focus on softness, gentleness and comfort. Soft play. Soft blankets. Soft touch.
But wait—why do babies get to have all the fun?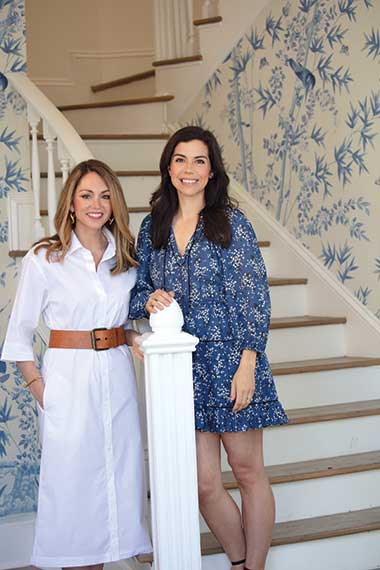 Good friends and new moms Anne Read Lattimore and Cassandra Cannon noticed how incredibly soft their child's clothes were in comparison to the old T-shirts and scratchy pajamas they had been wearing.
They both had the same thought: we need these for ourselves!
"That was where this idea started," Lattimore recalls. "We needed better pajama options."
Those better options became big-selling items when Lattimore and Cannon created LAKE Pajamas. What began as a small e-commerce business has grown into a nationally-known brand with two brick-and-mortar stores in Charleston and Atlanta.
A Common Thread
Cannon and Lattimore met during their college years; Cannon is a Savannah native, as is Lattimore's husband. As friends, they noticed a kindred, entrepreneurial spirit in each other.
"We were both very intrigued by the idea of owning our own business," Lattimore says. "For months, if not years, we would throw around different business ideas. Then, when we'd both just had our first babies and were at home more, we kept coming back to this idea of creating the perfect pajamas."
At the time, Lattimore and Cannon felt the market was caught on two ends of the spectrum—buttoned down, more tailored sets with a lot of fabric or skimpy, lingerie-inspired sleepwear.
"We just felt like we could do this better," Cannon says.
So Cannon started looking into fabric sourcing and other production concerns, while Lattimore focused on creating a business plan and getting the finances in check. Wanting a simple, easygoing brand name, they launched LAKE in 2014.
A Focus On Balance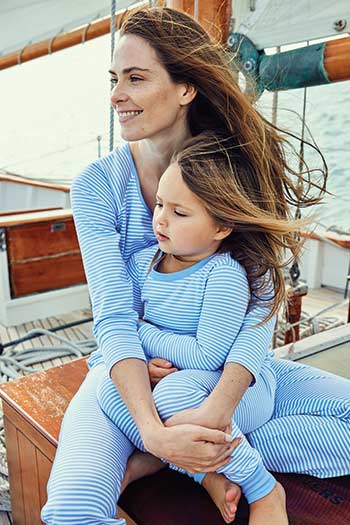 Design inspiration came from the idea that you should be able to look put together while still being really comfortable during the cozy moments of your life—with family during the holidays, with friends on weekend trip, or just with yourself and a good book. That balanced approach turned out to be just what many women were looking for, and LAKE Pajamas were soon popping up as gift ideas in magazines like Vogue and Southern Living.
LAKE's top-selling fabric is 100 percent Peruvian Pima cotton—that's the really soft stuff that Cannon and Lattimore noticed in their babies' clothes years earlier. Those babies were now growing fast, and LAKE was too.
"When I look back on the early years of LAKE, I have fond memories of working at home with babies running around," Cannon says. "But it was also stressful. And before we were able to build a team, we were each doing a little bit of everything and navigating our own way."
Though having a family and owning a business had its challenges, it also helped Lattimore and Cannon define what kind of business owners they want to be.
"We have a clear vision about our company's culture," Lattimore says. "We've been intentional, from the very beginning, about our employees having a good work-life balance. Many of our employees are parents, often new parents, and we want them to have what we had—the chance to build their work day around what their life is looking like right now."
"Life happens," Cannon adds. "But also, one of the recurring themes of our designs is the idea of honoring your time off."
Healthy Me Time
Awareness of self-care has expanded significantly in the last several years—it was an idea embraced and encouraged by everyone, but especially overwhelmed wives and mothers. And while Cannon and Lattimore see LAKE as a fun and whimsical way to celebrate comfort, it is also part of a larger picture of self-care and holistic health.
"As a mother, you're constantly being pulled in a million directions, your kids are demanding, your work is demanding," Cannon says. "All great things, but it also makes it easy to get run down and not take time for yourself."
Cannon regularly practices yoga and occasionally sees an acupuncturist to feel more centered.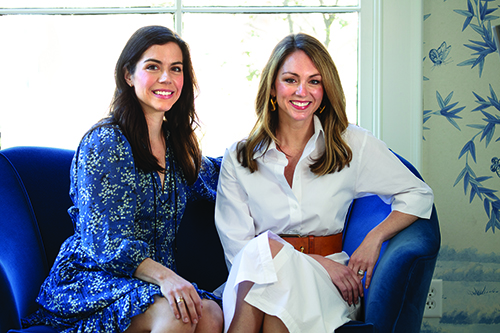 "I think it's important to listen to your body and your mind," she says. "Check in with your doctor, do your best to eat right, exercise and have quiet time."
Lattimore agrees, and adds that what feels like self-care to you may not feel that way to your family or friends.
"With self-care, just by having 'self' in its name shows how personal it is," she says. "There are so many different ways to bring comfort to yourself. And we will even see that in our business—people can be very specific about their sleep preferences, what kind of pajamas they want, what temperature they want at night—and that could be totally different for someone else."
Soft And Sensitive
For their part, Cannon and Lattimore feel clearer than ever about how they balance family and a business, even as both continue to grow bigger each year.
"A female-founded, female-owned, female-run business is not that common in Savannah," Lattimore says. "That's absolutely something that we're proud of. And we feel that we are sensitive to the lives that women in business lead."
What Cannon and Lattimore are sensitive to for everyone—women, men and kids—is comfort.
"Whatever the casual moments in your life are, whatever the places you're relaxed in," Cannon says. "That is where we want to live."
---
If you've got the right pajamas, find out more healthy ways to fall asleep and stay asleep here.
Good rest isn't just important at home, it is needed for recovery and healing in the hospital as well. Hear from a nurse why quiet hours are so important here.