Ask A Magnet Nurse
"Why Quiet Hours Matter: Patients That Rest Well Tend To Heal Well"

Roy Daring, RN
House Supervisor
Candler Hospital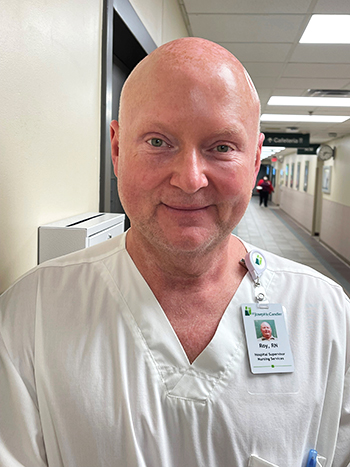 Smart Living: St. Joseph's/Candler holds Quiet Hours every night after visiting hours have ended. As a House Supervisor who works overnight, you see how it works. What do nurses do differently and how does it help?
Roy Daring: While it can be challenging in an acute care setting, it is the goal of our nursing staff to keep the units and floors as quiet as possible during those hours. Nurses can do things like cluster patient care, when possible, to limit going in and out of the patient rooms. They try to keep the lights turned down and the doors pulled closed whenever possible. They also make every effort to answer phones and call lights as quickly as possible and limit conversations in the pods to a minimum.
Research shows that too much noise can play a negative role in the healing process. By decreasing noise in the patient care areas, we aid in the healing process and facilitate speedier recoveries for our patients.
SL: What about what people call Me Time? Is that possible in a hospital setting?
RD: Yes, nurses will always try to minimize noise and interruption whenever they can so that patients can protect their peace while they recover. Me Time is always important, both in and out of the hospital. But during a hospital stay, patients often feel they have lost control of what is going on in their lives. Me Time gives them a little of their control back. It gives our patients a sense of normalcy at a time when things do not feel normal to them. That sense of normalcy, along with the steadiness of Quiet Hours at night, helps patients rest, which in turn helps them to heal and recover more quickly.