Second Serve
Legendary tennis pro and Hilton Head resident Stan Smith's healthy take on life after pro tennis
Tennis legend Stan Smith envisioned many great dreams for his life, but having his name on the "must-have accessory of Fall 2014 Fashion Month" has never been one of them. Yet that is exactly how Fashionista.com recently described the Adidas Stan Smith shoes, a long-standing favorite among sneaker enthusiasts around the world. The shoes, now lauded by fashion designers such as Phoebe Philo, were developed in the early 1970s, when Smith was busy making his own dreams of tennis excellence come true.

Four Dreams
As a young tennis player growing up in Southern California in the 1960s, Smith had some great expectations.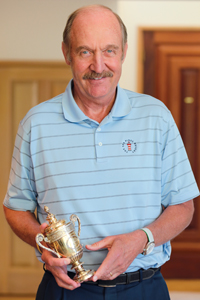 "I didn't tell many people about it, but as a junior in high school, I had four dream goals," Smith says. "One was to be a member of the U.S. Davis Cup team, another was to be the best player in the U.S., the third was to win Wimbledon, and the fourth was to be the best player in the world."

Not long before, Smith had been rejected from a ballboy position at a Davis Cup tournament, where officials thought he might be too "big and clumsy" for the job.

Smith's 6'4" stature was unique in tennis but it didn't stop him from excelling in the sport as he played for the University of Southern California. During this time, Smith began playing doubles with Bob Lutz. Their partnership lasted more than fifteen years, and together they won the 1970 Australian Open, five U.S. Open tournaments, and several other major titles throughout the world.

As a singles player, Smith saw all four dreams of his youth come true. He played his first Davis Cup tournament in 1968, ranked #1 in the U.S. for the first time in 1969, won Wimbledon in 1972 (after winning the U.S. Open in 1971), and ranked #1 in the world that same year. That's when he was approached by Adidas, the German shoe company that produced the first leather tennis shoe. Their original model was named for French tennis pro Robert Haillet, but the company was looking to create a bigger presence in the U.S. They asked Smith if the shoe could bear his name.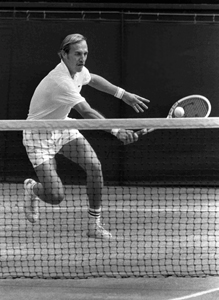 "I thought it would be a three to five-year arrangement," Smith recalls with a laugh. Adidas no longer outfits professionals with these shoes for match play, but the fashionistas of the world now buy them to outfit themselves. After a re-launch this year, the Adidas Stan Smith has been seen all over the streets of Paris and New York.

Smith was inducted into the International Tennis Hall of Fame in 1987. He currently serves as the Hall's president. Smith says that no matter how accomplished a player becomes, induction into the Hall of Fame becomes an overwhelming experience.

"Even the top players get choked up because they realize they are joining the greatest players that ever played the game," Smith says. "It also makes you think about all the people—your family, your coaches—that helped you get there. It's a very special honor."


Hilton Head Is Home
Among the many things for which the people of Hilton Head have to thank real estate developer Charles Fraser, one was his decision to bring Stan Smith to the island.

"Fraser had success with golf tournaments and wanted to increase the tennis element of his Sea Pines Plantation," Smith says. "He hired me to be involved in that whole process, and I've been a touring pro for Sea Pines for 43 years."

The resort is the home of the Smith Stearns Tennis Academy, which Smith created with tennis coach Billy Stearns twelve years ago to help prepare young tennis players for the high levels of competition they will face both in college and possibly as professionals.

"I was director of coaching for the United States Tennis Association's Player Development Program for about ten years, but I always wanted to do something here locally if we could," Smith says. "The academy has a great team of ten coaches, and we have about 45 young players. I'm there every afternoon when I'm home, which is about half the year."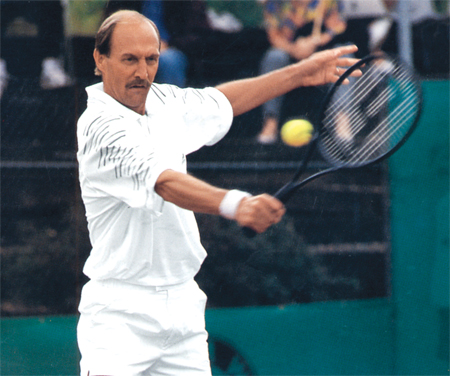 Get In Shape For The Second Serve
Smith's work with junior players keeps him active in the game, and his motto of "use it or lose it" is one that he believes senior players should follow as well. With the year-round opportunity to play tennis and golf in this region, players need to keep their activity level consistently high.

"There is also the philosophy that you have to get in shape to play, as opposed to playing to get in shape," Smith says. "I would recommend that players exercise in other ways besides tennis. Light, general weight training along with a general aerobic base is important."

Smith also notes the benefits of stretching, which he learned after suffering a back injury 40 years ago.

"I've been stretching after exercise ever since," Smith says. "It helps prevent injury and it just makes you feel good."

Any activity that you can use to push yourself physically as you get older is beneficial in Smith's view, whether it be the stationary bike, elliptical machines, or even walking in your neighborhood.

"Walking is underrated," Smith says. "I think just walking a couple of miles a day can do wonders."

That is sage advice no matter whose shoes you are wearing.