Visitation Policy Helps Patients Receive Support And Companionship
Ashton Gibson, RN-BC
Resource Coordinator, 5 North/5 South, St. Joseph's Hospital
Smart Living: Why is it important for a hospital to welcome visitors for its patients?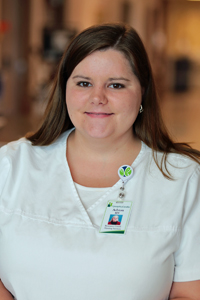 Ashton Gibson: Hospitalization can certainly be very stressful and most patients want their family at the bedside to comfort them. Many patients also prefer to have their loved ones with them when their doctors and nurses explain the plan of care. Loved ones can also help reinforce education with the patient. This is very important throughout hospitalization and upon discharge.

If a patient desires to have visitors here at St. Joseph's/Candler, we are happy to accommodate this request. Visiting hours are from 8:30 a.m.to 8:30 p.m. unless the patient is in a critical care area. Critical care areas include units such as the Intensive Care Unit and the Coronary Care Unit.

If visitors arrive after hours, they can still enter through the emergency room and check in with security. One overnight visitor is allowed to stay with a patient in a non-critical care area, if the patient is in a private room. Some areas have unit-specific visiting hours based on the patient population in that area.

SL: So there are some restrictions on visitation?

AG: Yes, there are some, and these are in place for the protection of our patients. Areas such as critical care have more strict visiting hours so that patients can rest between visits. We do allow children to visit, but children under 12 must be accompanied by an adult.

In the past when the flu was very prevalent in the community, we did enforce a temporary policy of no visitors under age 12. This was to protect our patients, staff, and community when the flu was at epidemic levels. The restriction was lifted when the number of flu cases decreased to a safe level.

When visitation is restricted, it is only done to protect our patients, and I think our visitors understand that.

SL: Can visitors approach a nurse with a question or a concern about their experience at the hospital?

AG: Our staff is happy to address any concerns regarding our visitation policy. We do our best to accommodate certain needs that our visitors may have. For example, if a visitor does not want to leave the patient's bedside, he or she can even pay in advance and arrange to have their meals delivered from the cafeteria to the patient's room.

Our visitation policy helps us to always provide the best care to our patients by allowing and encouraging loved ones to be at the patient's bedside. We understand how important the love and support of family and friends is in the healing process.