The Nanny's Singular Voice
Actress, writer, and uterine cancer survivor Fran Drescher is the keynote speaker at the 2016 SmartWomen Luncheon & Expo
Scene: A brash New Yorker named Fran and a young, proper British girl are walking down the street on a shopping trip. The girl says, "Fran, my new shoes are hurting me."
Fran, who doesn't want to go home yet, says, "Well, honey, just step on the backs of them."
"Won't that break them?" the girl asks.
To which Fran says excitedly, "Break them in!"
If you think this sounds like a clip from Fran Drescher's hit TV show The Nanny, you're almost right. But this exchange actually happened in real life.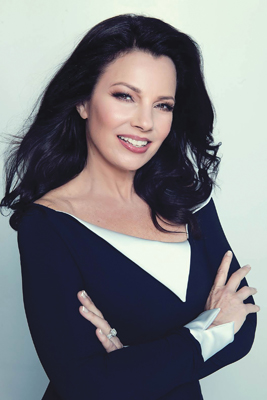 "I was in London visiting a friend, and she and her husband were working, so I brought their young daughter with me through the city," recalls Drescher. "And after that moment happened, I thought about how that relationship was kind of immature and self-serving, and also funny."

Drescher called her then-husband, Peter Marc Jacobson, back in Los Angeles, and said, "What if we made a spin on The Sound of Music, only instead of Julie Andrews, I come through the door?"

"He said, 'That's it. It's the perfect show for you.'"

Much of the material for that perfect show, The Nanny, came from Drescher's own experience growing up in a middle-class neighborhood in Queens, New York. As a child, Drescher was fascinated with comedic idols such as Lucille Ball, but acting was not her only pursuit. She also loved writing and being involved in social and political issues, but didn't know as a young actress how these other interests would come into play later in her career.

Drescher's role as Connie in Saturday Night Fever was the first of many smaller but memorable performances throughout the 70's and 80's, but Drescher says that studios didn't always know what to do with her.

"I'm unique, and being a pretty woman with a funny voice often put me in roles of being the friend or the neighbor, what we call a third banana," Drescher says. "Eventually I made a commitment to myself—I wanted to get on the inside of the business and not wait for the phone to ring."

Through a chance meeting with the president of CBS, Drescher was able to secure a meeting in which she and Jacobson could pitch the best show for her acting and writing strengths. But they didn't yet know what kind of show it should be—until that London shopping excursion with Drescher's friend's daughter. Now they had the vision of Fran Fine, an outgoing Jewish woman from Queens who becomes a nanny to the three children of Maxwell Sheffield, a Broadway producer and member of British high society.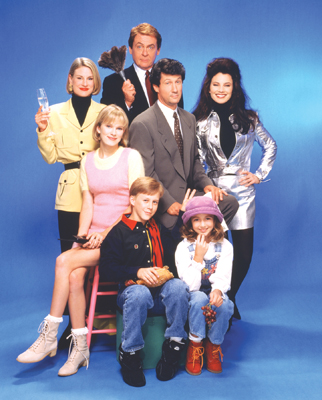 From the beginning, Drescher was involved in every single facet of the production. She wasn't sure if they had a hit on their hands, but she knew the show was something special.

"When we shot the pilot, the audience was right with us," Drescher says. "They got it instantly and they loved the characters. We had a really tight, laugh-out-loud show that the whole family could genuinely enjoy together."

Audiences across the country agreed. The Nanny ran for six seasons and made Fran Drescher a household name. This higher level of fame would soon make a huge difference in a new role that Drescher didn't know she was about to play.

During the final season of the show, Drescher started experiencing symptoms for which she had a difficult time finding answers. After two years of seeing several different doctors and trying various treatments, she was finally given a biopsy and diagnosed with uterine cancer.

"I got in the stirrups more times than Roy Rogers," she says with her famous laugh.

Drescher was diagnosed with a stage 1, grade 2 malignant tumor on the endometrial lining of her uterus. Within a couple of weeks, she had a hysterectomy, rendering her unable to have children.

"I felt betrayed by my own body," Drescher says. "I wasn't given a choice about how I would live the rest of my life. But you have to play the hand that's been dealt you, and you have to play it as elegantly and courageously as you can."

As a uterine cancer survivor, Drescher was determined to share her story with others and perhaps help them avoid waiting or being misdiagnosed as she was. She wrote Cancer Schmancer, a New York Times bestseller, about her experience. The response to the book, along with her fame as an actress, gave her the platform to speak to women and their families about prevention and early detection of cancer.

"I realized the book was just the beginning of what is now a life mission," Drescher says. "We founded the Cancer Schmancer Movement, and it's already been an amazing journey. We helped pass the Gynecologic Cancer Education and Awareness Act with unanimous consent in the U.S. Senate. This bill promotes education of women about all gynecologic cancers, and was the first of its kind. We've educated and transformed patients into medical consumers. We've taught people about the early warning whispers of cancer and the screening tests that are available."

One of the cornerstones of the Cancer Schmancer Movement is promoting a less toxic way of life.

"Our lifestyle is making us a very sick nation," Drescher says. "We need to dial it back to a time when it was cleaner and more natural. Our website is filled with information, videos, and resources about how to do this. We want to give people, especially the next generation, the tools to start making different choices."

Drescher is looking forward to coming to Savannah (this will be her first time in the city) and sharing her ideas with the women of this community.

"I want to blow everyone's mind by how much they don't know about their bodies and their health," Drescher says happily. "Women have been very appreciative of the proactive, singular voice that our movement brings. I'm excited to bring that voice to Savannah."

Learn more about Fran Drescher's Cancer Schmancer Movement at cancerschmancer.org.

Learn more about the types of uterine cancer and its treatments here.

Bottom photo: "The Nanny" courtesy Sony Pictures Television