Summer Safety: Mowing The Lawn
A recent study reinforces the importance of doing yard work the smart way
Even in early summer, it has already become routine—walking back and forth repeatedly, barely paying attention, with maybe some headphones on to help pass the time. Mowing the lawn can certainly feel like mindless drudgery, but the American Academy of Orthopaedic Surgeons (AAOS) warns that it actually demands strong focus and awareness.

Why would orthopedists care about yard work? Because the results of a recent study, revealed at the organization's 2016 annual meeting, showed that lawn mower-related injuries are a continuing problem in the United States, with sometimes devastating consequences. Of the nearly 200 children whose cases were part of the study, about half needed to have their injured limb amputated.

Researchers noted that most of the injuries could have been prevent if the users had followed safety guidelines. The AAOS has released its own set of these guidelines, which include: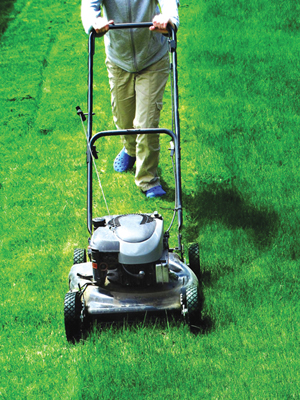 Read the instruction manual before using a lawn mower.
Wear protective gloves, goggles, sturdy shoes, and long pants when you use lawn mowers. Never mow barefoot, or in sandals or flip flops.
Use a stick or broom handle to remove debris in lawnmowers, never your hands or feet.
Do not remove safety devices, shields, or guards on switches.
Never leave a lawn mower unattended when it is running.
Stay away from the engine cowling (covering), as it can become hot enough to cause burns.
Remove stones, toys and other objects from the lawn before you start mowing.
Use caution when mowing hills and slopes. Mow across slopes with a push mower to avoid pulling the mower over your feet if you happen to slip. Mow up and down slopes with a riding mower to prevent the mower from tipping over.
Can my child help me mow the lawn?
When it comes to children mowing the lawn, the American Academy of Pediatrics (AAP) holds the same recommendations as the AAOS. Both organizations believe that children should demonstrate the mature judgment and physical strength that using these machines requires. In general, the AAP and the AAOS suggest that children be at least:

12 years old before operating a mower that you walk behind and push
16 years old before operating a riding lawn mower
Many lawn mower injuries involve a child riding on the mower as a passenger with their parent or grandparents. The best practice for children who have not reached the recommended ages above is for them to stay away from lawn mowers completely. Keep children at a safe distance while you're making your yard look beautiful. Then for the rest of these long summer days, it's all theirs.