Equally Bold In Flavor And Style
Today Anne Burrell is known as much for her sparkly personality as she is for her dynamic flavors. But it almost wasn't to be. First, she had to embrace who she was and escape an unfulfilling office job that had little room for being quirky and certainly no need for cooking.
"I did it for exactly one year," Burrell says. "I thought, 'I'm 23 years old and way too young to be this miserable."
Burrell realized that the only time a workplace felt like home was when she was waitressing part-time and meeting others in the restaurant business who were "a little nutty and a little creative." So during her stint as an office worker, she had an epiphany that gave her the courage to step out.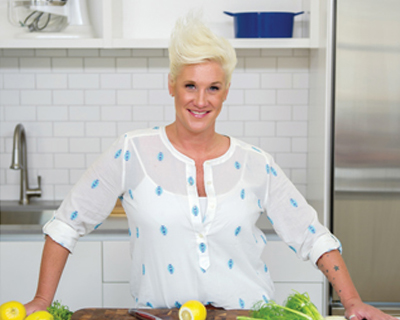 "I remember everything in that moment when I said, 'I'm going to culinary school," Burrell recalls. "And I thought, 'I don't care if I have to apply 30 times. I'm going.'"
A New Chef's Hunger
Growing up in a small town in upstate New York, Burrell had always loved cooking and was a big fan of Julia Child. (Her mom, also a great cook, credits Child's show with giving her daughter her ultimate career path.) Enrolled in the Culinary Institute of America (CIA), Burrell felt her fondness for cooking transform into an intense passion.
"I was hungry and thirsty for all of that knowledge," she says. After graduating from CIA, she continued her studies at the Italian Culinary Institute for Foreigners, then remained in Italy for months after graduating from there.
"I worked for free in restaurants to learn the Italian kitchen," she says. At 28, she fulfilled her next dream—a move to New York City. She served as a chef and developed her style in several restaurants in the city, while also teaching at the Institute of Culinary Education. She worked for famed Italian chef Mario Batali, who recruited her as a sous chef for the taping of a new show on the Food Network called Iron Chef America.
Producers took notice of Burrell's super-charged personality, spiky hair and continuously mismatched socks, but more importantly, they appreciated her combined skills of cooking and being able to teach those skills to others. Or as Burrell puts it, being able to "cook and talk."

Burrell has hosted or appeared as a guest on several Food Network shows and specials, including the long-running reality series, Worst Cooks in America. The show puts terrible cooks through a "culinary boot camp" in which they learn techniques from Burrell and another celebrity chef. The contestants try to avoid elimination and win the competition by wowing food critics with a restaurant-quality three-course meal.
Getting Better Through Being The Worst
A pattern has evolved with the low-skilled home chefs on the show that is likely reflected in kitchen struggles in homes across the country.
"I see a lot of the same thing and it perplexes me," Burrell says. "When I ask people how they followed the recipe at home, they're like, 'A recipe?' People either don't have recipes, don't read them, or don't read them until they start cooking. That's when you run into problems—either running out of ingredients or running out of time."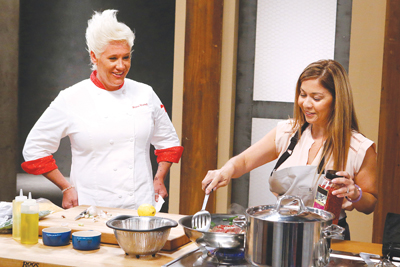 In the end, though, Burrell thinks it's good to make mistakes.
"That's how you understand what you did wrong, how to fix it, and how to avoid it," she says. "Cooking is a learned skill. It doesn't matter if your mom or grandma was a great cook—it's not a genetic thing. Granted, there are people that are going to be better at it than others, but I feel like anyone who wants to cook, can."
Finding—Or Rediscovering—Your Passion
Someone who really wants to cook these days is…Anne Burrell. Like other high-profile chefs, she found that her presence was requested more in front of a camera than in an actual kitchen.
"I wanted to get back to my roots," Burrell says. "I wanted to get my hands in food again. That is my absolute passion."
Burrell partnered with Phil Casaceli, who is famous in New York's West Village for the cocktail creations at his bar, Daddy-O. They recently opened the doors of Phil and Anne's Good Time Lounge in Brooklyn, New York. Their hope is that diners will make the restaurant their home away from home and have a great time.
"We built this to be a really fun neighborhood place for great food and great cocktails," Burrell says. "I want people to leave and say, 'Hey, that really was a good time.'"
Still, Burrell will continue to be "cook and talk" for her many fans, including the young ones who look up to her and her unique style.
"I have a lot of kids that are fans, and if I can be that 'Julia Child' to one kid like Julia was to me, it makes me the happiest," she says. "Then I've done my job. But I've also had people come up to me and say, 'You helped me get through chemotherapy," or things like, 'When I can't eat, I watch you and it makes me feel better.' So I realize what I do also has a great responsibility."
Burrell is looking forward to sharing her passion with the SmartWomen audience in Savannah, a city that she has never visited before, and hopes her own story with inspire others.
"Whatever your passion is, just get in there and don't settle," she says. "Own your mistakes and own your successes."
Photos courtesy of The Food Network.