How Innovative Hospitals Enhance Patient Care And Experience
Laura Russell RN
Clinical Educator, Coronary Care Unit, St. Joseph's Hospital
Smart Living: As the healthcare industry seems to go through continuous change, the most innovative hospitals are taking a new approach not just to care but to the patient experience. How are they doing this and why is it important?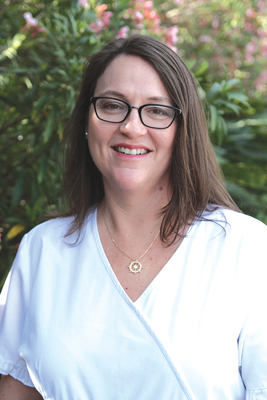 Laura Russell RN: The nursing nerd in me will tell you that research has proven that a good patient experience reduces the stress of being in the hospital, promotes healing, and improves patient outcomes. All hospitals strive for this, but the most innovative hospitals consider all aspects of a patient's experience—starting with the environment that patients find themselves in. They have created warm and inviting spaces that are so pleasant to the senses that it doesn't even feel like a hospital.
This helps to soothe patients and their families as soon as they walk in the door. In fact, at our own newly-renovated Emergency Department, Outpatient Surgery, and Imaging Services at St. Joseph's Hospital, the difference is felt before you enter. There is a Welcoming Christ, a full-scale marble statue of Jesus with arms outstretched over the calming waters of a fountain. The statue and fountain are reflective of our faith-based mission, and it brings hope to the worst of days.
We understand that when most people come to the hospital, whether it is an emergency or planned procedure, most people are concerned, nervous and even frightened. The new atrium, which is bathed in soft natural light and adorned with beautiful—and local—works of art, gives patients a sense of warmth and serenity. Visitors, too, are immediately struck by the comfort and convenience inherent in the design. The furniture and layout provide the atmosphere of an elegant living room, with digital device charging options, and there is even a full-service coffee shop, the Baggot Street Café. It's simply not what you would think of as a hospital lobby.
SL: Does this innovative approach also help with patient care? Can you give an example of how it affects your unit?
LR: Absolutely. The St. Joseph's Hospital renovation expanded our square footage by 17,000, and 13,000 square feet of existing space was renovated, increasing our number of ED beds and enlarging the treatment rooms to treat a variety of patient acuity levels. We now also have dedicated X-Ray and CT rooms in the new ED. I cannot tell you how much the new CT is going to speed up diagnosis and treatment for our patients seen through the ED. It will cut minutes off of the wait time for patients with stroke-like symptoms, when every second counts.
Learn more about St. Joseph's/Candler's Magnet nurses at www.sjchs.org/magnet.