Academy Rewards
Pre-op education on knee and hip replacement gives patients both information and reassurance
Total joint replacements, especially of the knee or hip, are fairly common procedures in the United States. But that doesn't mean they're not still a big deal. After all, part of your body is being removed and replaced with a metal, plastic, or ceramic device, which will then do the joint's essential job of keeping you in motion.
To ensure the best possible patient experience for this kind of surgery, St. Joseph's/Candler developed the Joint Academy, a specialized program that includes a class that no one wants to skip.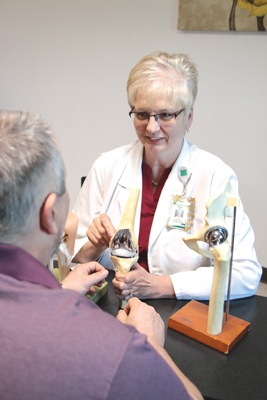 Step by step, we go over everything from beginning to end," explains Penny Swindell, RN, an education specialist at the Joint Academy. "We arrange our class around your pre-screen schedule, so that you do not have to make a second trip to the hospital before your procedure."
What Patients Can Do At The Joint Academy
Meet with members of the orthopedic staff to learn about their surgery
View sample implants and other equipment that will be used in their surgery and recovery
Learn what to bring to the hospital
Learn about post-op hospital care (pain control, infection control, physical therapy and more)
Address concerns about discharge from the hospital and options for extended care
Learn how to prepare for post-surgery care at home (including how to prepare your house and avoiding potential fall hazards)
Swindell will sometimes see people in her classroom that haven't yet decided about undergoing joint replacement surgery.
"Once they take our free class, it eases or even eliminates their anxiety," she says. "I explain that we do about 1,400 of these procedures every year, and that they will be taken care of by nationally-certified orthopedic nurses."
The nurses, conversely, can often tell when a patient has gone through the Academy.
"It shows when a patient is fully prepared," Swindell says. Following the procedure, patients also have better expectations about post-op pain and more confidence in their ability to deal with it. They will also learn about warning signs at home, such as blood clots or infections, and when to call their physician.
"We will make sure you know everything to expect and prepare," Swindell says. "Right down to packing your suitcase."
---
A little basic anatomy is also part of the instruction at the Joint Academy. But how much do you already know about your knee? Take our quiz to find out.