Telling Her Stories
Cassandra King enthralls lovers of Southern literature while honoring the legacy of her late husband Pat Conroy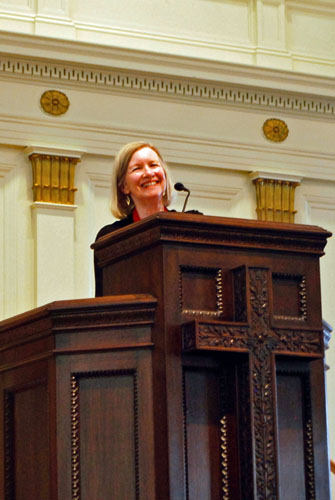 Even though she grew up on a farm "in the sticks" of Alabama, Cassandra King traveled to wondrous places, met incredible characters, and traveled through time—all through the power of books.
"We didn't have a neighbor in sight," King recalls. "My big thing to do was reading. My mother would drive me to the library in town so that I could check out all the books I wanted."
Coming from a family of what she calls "fantastic storytellers," King knew she wanted to be a writer. Throughout the different stages of her life—majoring in English in college, getting her Master's in Creative Writing after her children were grown, managing a divorce and turning 50—she made it happen.
King was able to dig into her own life, roots and all, from her days on the farm to her time as a preacher's wife, and her ability to evoke those places and people so well led to some bestselling novels. Now it was she who introduced readers to lush and provocative worlds, namely the American South.
At the same time her writing dream was coming true, King met her future husband—and partner in soulful, Southern storytelling—Pat Conroy.
No More Drama
The two met at a writers' conference in 1995. From his casual, disheveled appearance, she assumed he was not a writer but perhaps the husband of one. Since she was hovering near the food table after not having eaten all day, he thought she might be the caterer.
When she realized she was talking to Pat Conroy, whose work she had admired since reading his 1972 memoir, The Water Is Wide, she felt starstruck but also surprisingly at ease, as if talking to a friend. When he found out she was a new writer with her first book, Making Waves, about to be published, he—true to his reputation—was curious and supportive of her emerging career.
They stayed in touch as friends and became involved romantically two years later. They got married in 1998. It would be her second time down the aisle and his third, but this one stuck.
"We were both over 50 with no kids at home," King says. "We were both writers and understood that we're a strange brood who need solitude and whose minds are often elsewhere. And I think we were both just ready to settle down and not have any more drama."
Emotional Truth, Served Southern Style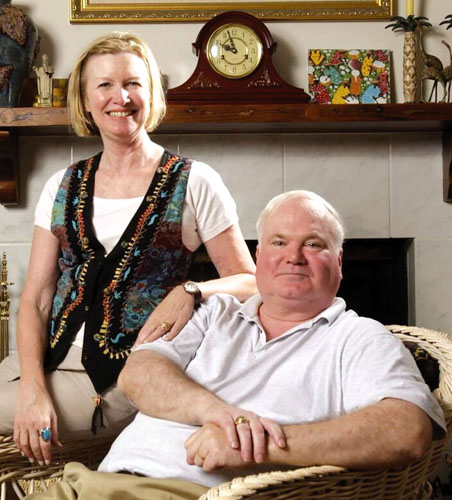 Drama, of course, was what drew readers to their books. Poetic in his prose, Conroy used his novels to face some darker truths about his own life and the world we live in, from the abuse and pain that many struggle within their families to wider issues of violence, racism, and mental illness. Readers devoured these emotional stories, and many were adapted into films, including The Great Santini, The Lords of Discipline, and The Prince of Tides.
King's own timely stories of the South ended up on the bestseller lists as well, including The Sunday Wife and The Same Sweet Girls. She has no qualms with being known as a Southern writer, and continues to meet fans from all over the world who are fascinated with her characters. Her most recent book is the memoir Tell Me A Story: My Life With Pat Conroy, which brought her to the Savannah Book Festival in February. Partially a testament to finding true love in mid-life, it also honors her late husband's famous curiosity about people's lives.
"'Tell me a story' was Pat's mantra in a lot of ways," King says. "We all have stories, whether or not we have the courage to tell them. And Pat collected stories, not just from books but from the people he met. That was just who he was."
Living Legacy
Pat Conroy was diagnosed with pancreatic cancer in January 2016 and died less than two months later. Through her grief, King has not only continued to write (she's currently penning a story that draws from her childhood on the farm), but also co-founded The Pat Conroy Literary Center in her adopted home of Beaufort, South Carolina. Along with classes and writing groups, the center also provides space for book clubs.
"There are so many writers that still praise Pat for his encouragement, and we created the center as sort of a living legacy," King says. "Our aim is not just to encourage writers, but also to encourage readers."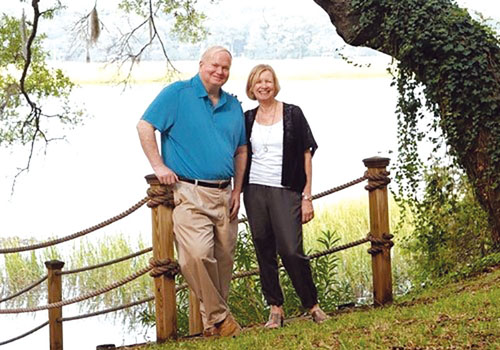 Learn more about Cassandra King at cassandrakingconroy.com
---
Say Anything
Cassandra King's novels shed light on the Southern life, especially for women. Her late husband's books also dealt with uncomfortable topics. Yet even she struggled with being open when it came to her own health. Like so many others, King suffers from digestive issues such as irritable bowel syndrome, diverticulosis, and certain food allergies.
"No one wants to hear how eating certain things could tear up your stomach, or make you throw up. That's not really good dinnertime conversation," King says with a laugh. "So these things have almost become a forbidden topic."
The problem occurs when people also hide these issues from their doctor due to embarrassment.
"Too often, the doctor finds out when someone ends up in the hospital with internal bleeding or something like that," King says. "Then they say, 'Oh I had this stomachache for weeks but didn't want to say anything about it."
King has found herself in some tricky social situations while trying to stay mindful of her health.
"Southern women of my generation would never dare go to someone's house and say, 'No I don't eat that,'" she says. "My mother would turn over in her grave!"
Yet, King found that when she was up front about her dietary restrictions, other people would open up about their own similar issues. She also has managed her conditions better since overcoming the discomfort of being open with her physician.
"I have a really good rapport with my doctor now, thankfully," King says. "That is so important. Because if you can't talk to them about what's going on, how can they help you?"
---
Learn more about some very common gastrointestinal issues, and how treatable they can be.