Small Town, Big Impact
Changes in healthcare delivery—but also in our lifestyles—can help keep rural areas healthy
Pembroke is like many other towns across the country—fewer than 5,000 residents, only a handful of grocery stores and limited internet or cell technology. Pembroke is also like other towns in that it has a strong sense of community.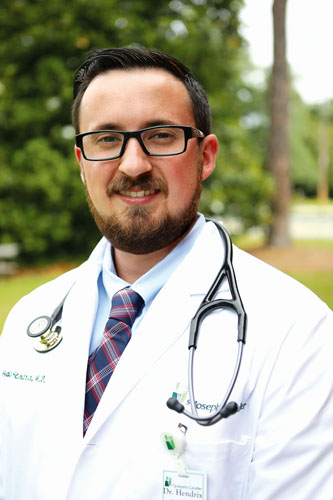 "I like to compare this town to Mayberry from The Andy Griffith Show," says Harley Hendrix, MD, of St. Joseph's/Candler Primary Care in Pembroke. "It is your typical rural and quaint town."
And Dr. Hendrixshould know—he's not a big-city transplant but is originally from another small town nearby, Claxton. Having grown up in the culture and atmosphere of rural Georgia, he chose to return to it after medical school, hoping to help residents overcome the health challenges that are common where they live. Because every town, no matter its size, can have a community that is not only strong but healthy.
Serving A Community
"I see many different generations of the same family," Dr. Hendrix says. "I like knowing many of my patients on a first-name basis. I enjoy seeing my patients in clinic and then participating in events and organizations within the community I serve."
Dr. Hendrix notes that his patients still lead busy lives. Decisions about time, finances, and lifestyle can bring daily challenges that affect long-term health.
"There is a prevalence of typical conditions in Pembroke that we see across the Southeastern United States, and much of it is a result of our Southern culture, including diet and exercise habits," he says.
Those conditions include:
Cardiovascular disease
Hypertension (high blood pressure)
Type 2 Diabetes
Hyperlipidemia (high cholesterol)
Dr. Hendrix, of course, can help patients get the right medication for these conditions, but he tries to remind his patients that changes in lifestyle can make a big impact.
Hard Habits To Break
"I always stress diet modifications with lean meats such as chicken, turkey and white fish, vegetables—mainly fresh produce—and whole grains to all my patients," Dr. Hendrix says. "Also, adding in 30 minutes per day, five days a week, of mild to moderate cardio exercise such as walking, jogging, running, swimming, or biking. These changes would help treat some of these conditions at home and decrease the chance of needing medication."
Limited options can make some lifestyle changes more difficult, which Dr. Hendrix understands.
"Fresh produce and meat tends to be much more expensive or harder to find than stopping at the fast food restaurant on the way home," he says. "It is also hard to find time to exercise, and the nearest gym may be the next town over. Outdoor exercise is a great option but depends on the weather."
Making Connections
Despite the longstanding challenges, Dr. Hendrix believes everyone can benefit from advances in healthcare as long they are a part of the bigger picture.
"I feel like healthcare is moving to include the more rural areas of America," Dr. Hendrix says. "But we still have a long way to go, especially with the severe shortage of physicians in these areas."
One of the most crucial ways to keep small town residents connected to the highest-quality care is to expand access to internet and cell phone service—and to the devices that provide that connection—to all.
"Technology has helped us, and the less difficult it is to access, the better," Dr. Hendrix says. "Take, for instance, the televisit that has come of age, more so recently due to the COVID-19 pandemic. Video conferencing through the internet, in real time, has allowed us to see patients that would not be able to come to clinic."