Transitional Bonding Period Helps Newborns Get Used To Their New World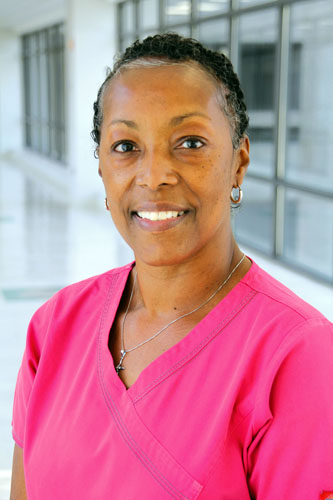 Lisa Loadholt, BSN, RN
Resource Coordinator and staff nurse, Neonatal Intensive Care Unit
The Mary Telfair Women's Hospital at St. Joseph's/Candler
Smart Living: During the first several hours after delivery at the Telfair BirthPlace, how do nurses help promote bonding between newborns and their moms?
Lisa Loadholt: Immediately following birth, if it's a vaginal delivery without complications, the baby is placed skin-to-skin with mom, meaning that they are placed right on mom's chest without being wrapped in a blanket. For a delivery through C-section, often we can place the baby skin-to-skin with dad if mom is still recovering from anesthesia.
Skin-to-skin contact for the first hour is wonderful for bonding, but it also helps regulate the baby's temperature, heart rate, breathing rate and even their blood sugar levels. Mom's warmth and heart rate can help calm the baby as they get acclimated to the new world they're in.
SL: How do nurses help with the next steps of care for new moms, such as breastfeeding, giving the baby a bath and preparing to go home?
LL: Again, as long as there are no difficulties during birth, nurses can do initial assessments of the baby while he or she is on mom's chest. In fact, we don't take the baby out of mom's room for their entire stay unless absolutely necessary. We wait about six hours for the first bath, which gives moms time to rest and bond with their baby. Then bath time is more relaxed for mother and child and becomes a chance for moms to ask questions one-on-one with a nurse.
That initial skin-to-skin contact can also help moms with breastfeeding. Calm newborns are more likely to start displaying cues that they are ready to feed, which new moms can pick up on. All of the nurses at the Telfair BirthPlace have been trained on how to help with breastfeeding, and we also have dedicated lactation consultants. So moms will have one-on-one guidance through that as well.
If complications bring your baby to the Level II Neonatal Unit, we will keep you updated on his or her condition. And we have a neonatologist that is onsite twenty-four hours a day. In all situations, whether it's your first child or you have delivered at the Telfair BirthPlace before, you can ask any questions you want and we can get you the answers. You can be assured that you will always be surrounded with positive support.